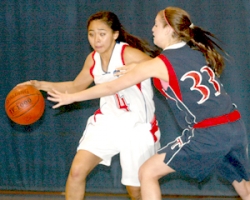 After dropping a close game to Esperanza in the first game of pool play at the Fountain Valley Hoop Classic, the Los Alamitos High girls basketball team reeled off three straight games to take fifth place in the tournament and improve to 7-2 on the season.
The Griffins finished the weekend with a 49-29 win over Kennedy High on Saturday in the fifth place game. Keiko Nomura led the Griffins with 12 points and Lauren Yamada added 10 points. Haley Gorman had eight points and also pulled down a team-high, nine rebounds.
The Griffins went into the Fountain Valley Tournament having reached the finals of the Century Tournament before falling to Irvine in the Championship game. Overall, Griffin coach Chris Vlasic has been happy with the team's play in the early part of the year.
"Defensively, we've been playing pretty well," Vlasic said.
In a 48-31, win over Tesoro to reach the fifth place bracket, the Griffins had 16 steals, led by Nomura with four.
Offensively, the Griffins have spread the ball around and will continue to do so to try and generate points. Against Tesoro the Griffins had nine players score, led by Katelyn Mccutchen with 10 points.
Los Alamitos jumped out to a big lead and led 34-19 heading into the fourth quarter, but the offense stalled as the Titans rallied to cut the lead to 36-30. The Griffins were able to respond and put the game away with a 12-1 run to end the game. The defense will be the thing that defines the Griffins this season, but Vlasic is hopeful of improving the offense as the season progresses.
"I wish we were a little more consistent there, but it's going to be a group effort, no doubt," Vlasic said.
The Griffins have been getting solid leadership from their seniors, including Yamada, Nomura and Gorman, who combined for 44 of the team's 67 points in a 67-58 win over Valencia. But the Griffins are also looking for some help from some younger players, including freshman Bayley Hagino.
Depth will be important if the Griffins hope to make a top three finish in the Sunset League.
Edison and Huntington Beach were both ranked in the Orange County Register preseason top 10 poll, and Edison is the No. 5 team in the CIF-SS Division 1AA poll. Vlasic likes his team's competitiveness in the league race and in battling for a top three finish.
"We're going to have to earn that, because nobody gives it to you," Vlasic said.
The Griffins had two home games this week, starting with a game against Kennedy on Tuesday. They will host Beckman on Thursday at 7 p.m. before heading north to play in the Santa Barbara Tournament this weekend.