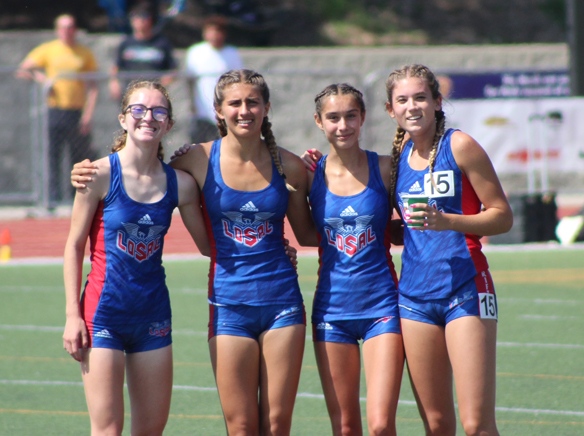 Los Alamitos High sophomore Olivia Bettinger finished the CIF Masters Meet with the fifth best pole vault jump, at 11 feet, 9 inches, which was one of six among the athletes who competed in the event. The top mark was 13'4" by Aspen Fears of Vista Murrieta, while three others cleared 12'3."
But Bettinger was also competing in the girls 4×800 relay, with Kaitlyn McQuillen, Stevie Holguin and Ruby Flaim, at the same time as the vault competition, literally, according to her father Jay. The vault event began as the 4×800 teams were warming up on the track. Bettinger awaits her first turn at the vault. She clears 10'9" on her second attempt and immediately changes her shoes and races over to the track for the 4×800.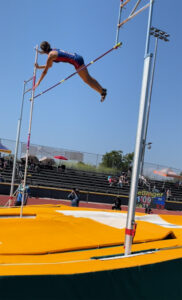 Bettinger normally runs the anchor leg of the event, but coach Nathan Howard puts her in the first position so she can run her leg and get back to the vault. She runs her leg and races back to the vault as her teammates finish the final three legs of the 4×800. She arrives early enough to clear 11'3" before the bar moves up to 11'9" which she also clears.
She has a couple of good attempts at 12'3" but misses and when they end up one athlete short of qualifying for state, there is a tiebreaker for two of the girls who cleared 11'9." But Bettinger is not among them due to more misses. The rush may have contributed to her misses, but according to Jay, she smiled, enjoyed the experience and later that night, went to prom with her friends.