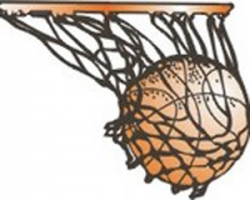 With his squad not shooting free throws well to start the season, you couldn't blame Los Alamitos Boys Basketball Coach Eddie Courtemarche for being nervous as his squad was sent to the line in a tight game late with Norwalk Dec. 1.
His Griffins were leading by one, 60-59, with 22 seconds left, and were just 3-7 from the charity stripe to this point. Camryn Crocker, the game's leading scorer with 19 points, was fouled.
With the game on the line, Crocker buried both shots to push the lead to three. The Lancers tried to tie the game but a Kami Yudu shot was off the mark and rebounded by Chris Kapano, who was fouled with just under a second left. Not wanting to be outdone, Kapano made both of his free throws to ice a 64-59 victory for the Griffins in a pool play game of the Loara Tournament. Courtemarche appeared happy to get his first win as the Los Alamitos mentor.
"(Norwalk) was athletic and they did a great job of running sets for their guys," Courtemarche said. "We were a better team tonight."
Los Al lost its opener two nights previous, 67-65 to San Bernadino and was just 9-22 at the free throw line. While Los Alamitos was 6-6 in the fourth quarter and 7-11 for the game, Norwalk was, this game was also very tight throughout. Los Al came out cold shooting, missing its first six shots from the floor before a Crocker putback.
Crocker, who had 28 points in the opener, put up six in the first quarter but Manuel Castaneda's three-pointer at the buzzer gave the Lancers a 12-10 lead after one.
Another Castaneda three-pointer had the Griffins down seven early in the second. Los Alamitos came back, however, using baskets by Crocker and Josh Rosado and a Ryan Hurst free throw to tie the game at 17 less than three minutes later to force a Norwalk timeout.
The ebb and flow continued as Norwalk went up four only to have Patrick Scully and Justin Kaminski buckets give Los Al a 23-21 lead. Norwalk would again end strong, tying the game at 23 just before the half. Crocker had a basket and three-pointer in the first 90 seconds of the third but was matched by Yudu.
Norwalk would take a four-point lead only to have a Henry Igboke bucket tie the game.
Igboke, who had seven points in the quarter, ignited a 9-2 run with a basket. Zachary Radner and Chad Kutzke each had a basket with Igboke's three-pointer giving Los Alamitos a 44-37 lead, its biggest of the game. With the Griffins hitting 7 of their last eight shots, Los Alamitos took a 44-40 lead into the fourth quarter.
Hurst and Crocker each had baskets in the first 35 seconds of the fourth as the lead ballooned to eight. Over the next three minutes, Norwalk went on to tie the game at 50. Crocker and Rosado countered with baskets as Los Alamitos led 58-52 with 2:08 remaining. Norwalk would cut the deficit to one with 35 seconds left.
Yudu and Castaneda each had 15 points to lead the Lancers. Angel Arbon had 10.