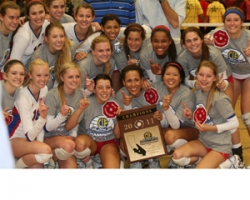 Los Alamitos High's girls volleyball team handled everything the Newport Harbor team threw at them and held off the Sailors to win the CIF-SS Division IAA Championship with a 25-17, 26-24, 25-23 sweep over the Sailors recently at Cypress College.
After taking game one rather handily, the Griffins had to withstand two furious rallies by the Sailors to take games two and three to complete the sweep.
The Griffins (35-3) completed a perfect postseason as they did not lose a game during their five-match run to the title. The run was fueled in part by a regular season-ending loss to Edison that not only forced the Griffins to share the Sunset League title but also dropped them to the second seed behind the Chargers in the playoffs. But the loss motivated the Griffins.
"It definitely did, it served as harsh motivation, even though it sucks to lose we knew that we had to build off of it and just learn from it and I think we did," Schnabl said.
Senior outside hitter JoJo Schnabl led Los Alamitos with 14 kills and 18 digs. Senior outside hitter Alijah Gunsaulus had 12, sophomore middle blocker Chrissy Jones had 13 for the Griffins. Senior opposite hitter Jaylen Villanueva added eight kills and junior setter Justine Wong Orantes had 37 assists.
Game three was close throughout, though the Sailors were able to take leads of 16-13 and 18-15. Los Alamitos finally managed to tie the game at 22-22 with a kill by Jones. Newport Harbor followed with two unforced errors to put the Griffins at match-point and Jones ended the match with a block for a point.
The title culminates a five-year battle in which the Griffins have been close, but come up short of a CIF-SS title. In 2007, they reached the quarterfinals and in 2008, they lost in the semifinals. In 2009, the Griffins lost to Newport Harbor in the finals and last year they were a semifinal casualty to eventual champion Long Beach Poly. The Griffins were not going to let this year's opportunity slip away.
"I think we wanted it more than we've ever wanted anything and we definitely played like it tonight," Schnabl said.
For the seniors, some of whom have been a part of those near misses, their success was particularly pleasing to coach Dave Huber.
"I couldn't be more happy for them," Huber said.
The Griffins seemed to have little trouble in game one, taking leads of 10-5 and 19-9 before cruising to a 24-15 win. But the Sailors adjusted in game two and despite falling behind 11-3, they rallied to cut the lead to 21-18. Los Alamitos pushed the lead to 24-20 on consecutive kills from senior outside hitter Alijah Gunsaulus.
Newport Harbor came back to tie the game at 24-24, but the Griffins closed it out with a kills by Villanueva and kill by Schnabl down the left line to seal the game. Huber said his team was focused and played with a lot of energy and was able to adapt to the momentum swings.
"We were able to be ready for any adjustments they made," Huber said.
"A lot of focus and Dave our coach being hard on us, getting on us making us realize how good we really are and it had a lot to do with him," Gunsaulus said.
If you have a comment or response to this story" write us at dennis@sunnews.org or go directly online to www.sunnews.org. Find the story and leave your comment there.