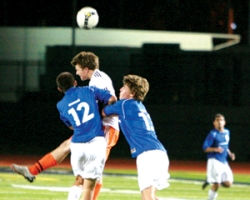 Los Alamitos High players' heart and determination resonate through team
The Griffin soccer team traveled to Huntington Beach High School and defeated the Oilers, 4-0.  The Griffins improved their league record to 5-2 and are 12-4-3 overall.
Andrew Anderson and Evan Bacani scored one goal each and Tim Harty rocketed in a pair, trouncing the Oilers 4-0.
The Griffins are now in the hunt for a sunset league title.  Sixth year varsity coach, Donavan Martinez is extremely proud of his squad.  "We have a young team and we are competing for a sunset league title.  The boys are playing very well," said Martinez.
The Griffins played hard against the Oilers and defended like a precision machine.  Coach Martinez pointed out the sensational team leaders he has in Andrew Anderson, Tim Harty, and Kyle Freeman, all captains.  Coach Martinez said, "those three guys are our leaders, our foundation, our glue that holds this team together."  Martinez added, "I think Tim Harty is doing everything for us.  He's developing our offense, he's scoring, he's been tremendous for us."
Captain Kyle Freeman spoke brilliantly about his team.  Freeman said, "I think it's great.  We come out and show our character and win games.  We have had a couple of tough losses, but we came back and proved to everyone we can play.  All of us seniors are trying our hardest; and it helps that Tim Harty scores rockets for us!"
Freeman had a huge smile on his face after the game and proved why he is one of his teams inspiring leaders.  Captain Andrew Anderson shares the same excitement and determination his teammate Freeman expressed.  Anderson said, "we have heart and determination and we want to win all of our upcoming matches."
The remaining Griffin schedule is tough.
The Griffins played Newport Harbor on Feb. 2—details were not available at press time—and they play Marina on Friday, Feb. 4. They next challenge Edison on Tuesday, Feb 8.  The Griffins "Senior Game" is against the #1 ranked in the nation, Edison High School.