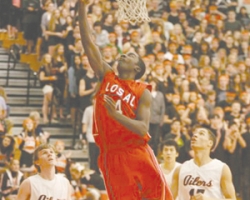 The Griffins traveled to Huntington Beach High School to take on the Oilers.
The Griffins fell short to the Oilers at home a couple of weeks back, 41-39.
The question in everyone's mind would the Griffins be able to begin the second half of the season avenging their previous loss against the Oilers.
Well, the Griffins came firing back in Oiler territory with a 42-36 victory, which pleased many fans.
The Griffins were led by their captains, Camryn Crocker with 11 points and Henry Igboke with 9 points. First year varsity coach Eddie Courtemarche was pleased with his squad's performance.
Courtemarche said, "beating Huntington Beach is the first step for us as we begin the second half in league. I am pleased that we executed our game plan and we were able to beat a quality team on the road." The Griffins offense and defense were solid throughout the game.
In fact, the Oilers were scoreless the entire third period.  Coach Courtemarche added, "our active defense was the key.
Hitting our freethrows, and having Henry Igboke (power forward) and Chris Kapano (point guard) step up the last couple of games has given us a big boost."
The Griffins host Newport Harbor (Feb. 2), Marina (Feb. 4), and Edison (Feb. 8) and travel to Fountain Valley (Feb.  10).