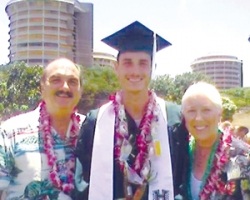 Steven Grgas, son of former Seal Beach mayor Victor and Nancy Grgas, graduated from the University of Hawaii on May 15.
He was a middle blocker on the UH Men's Volleyball team and majored in communications. Steven is a graduate of Los Alamitos High School.
He will be staying in Hawaii this summer playing a pirate in the new "Pirates of the Caribbean: On Stranger Tides" movie filming in Hawaii this summer. Look out, Johnny Depp.