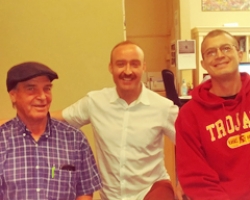 Three men with widely divergent backgrounds are preparing to launch a wide-ranging social experiment in which they hope to promote a variety of programs and services to "nurture the living experience."
Ted Zellmer Jr., a retired local contractor, Michael Metal, a paralyzed Navy veteran and Matthew Finch, a businessman, are making the rounds putting together an inspired idea designed to build affordable housing, create sustainable neighborhoods while funding a number of programs to help veterans and children.
"We're planning to establish a benefit corporation and a non-profit," says Finch, although they are seeking input from the Long Beach and Seal Beach communities before moving forward.
Zellmer is a rather well known retired contractor, known for building or maintaining many iconic area buildings, especially on the campus of California State University, Long Beach. He is also known as a master of the sea.
Metal, who is medically retired from the United States Navy, served in a classified branch of service that dealt with interdiction efforts in the Middle East and off the coast of Africa.
Finch is a businessman with plans on becoming the Galilee CEO, once the group has been launched.
Zellmer grew up in the area, and although his business has taken him to many places, he knows the California coast and how to navigate the oceans. He is, in fact, known as Commodore Ted, because of his extensive knowledge of boats, sailing and surfing.
By the way, Zellmer says Seal Beach is a favorite place to surf, remembering the swells of years past that present and former surfers know where to find.
"Galilee Institute" is already teaching sailing and other boating skills to youngsters in a Sea Scouting program.
This brought Zellmer into closer contact with Metal, whom he had met earlier. Metal and Zellmer knew they had similar mindsets and goals, despite the differences in age and backgrounds.
Metal says he grew up in poverty and now has advanced degrees so he knows how to lift people up. "We want to break down barriers to help people," says Metal.
Metal, who was injured during his Navy service, now works from a wheelchair and is a driven man. His mental wheels are spinning fast as he says Galilee has big ideas to help people.
Metal has an interesting past. Since the Navy, he has blown the whistle on government employees for misleading the public about serving veterans and he has worked for the Veterans Administration and the L.A. Office of Mental Heath.
Metal earned a Masters degree in Social Work from the University of Southern California after retiring from the Navy.
Although the Galilee program is underway, its future galaxy of programs is still in the being formulated. The organizers are hoping to attract community input and partners to develop future offerings.
The Galilee Institute expects to have housing, parks and other divisions. The idea came from a stone from the "Sea of Galilee" that Zellmer found near his mother's bed after she passed away. His mom, Peggy Taylor Webb, was a somewhat well known jazz singer and pianist. Life has been very good to Zellmer he said, and now he wants to give back.
Their long-term mission statement envisions "sustainable neighborhoods for people with limited income."
Their homes will contain cost affective housing solutions with first-rate amenities, according to the plan.
Within the parks, community gardens so people can grow their own food. Health and wellness will be offered to improve lifestyle.
Natural outdoor environments will offer opportunities for sports and the communities will be integrated into the surrounding area so that inhabitants will have plenty of opportunities for volunteering and other ways to give back.
The sailing programs already established are just the beginning of a series of youth and veteran oriented programs, according to the group.
"We are reaching out to the local communities to see how best we can serve and perhaps find groups, clubs and organizations who want to partner with us," said Finch.
The group has already obtained its own sailboat and other offers have been received. According to the group, every month the Galilee Parks hosts a "Sea of Life" event which invites vendors and organizations from the local communities to come out to promote/donate their goods and services. "We want residents to have the firsthand opportunity to access goods and services to improve their quality of life."
Persons interested in volunteering, or learning more, can register or their website, www.galileeinstitute.org or call 714-396-6046or email info@galileeinstitute.com.