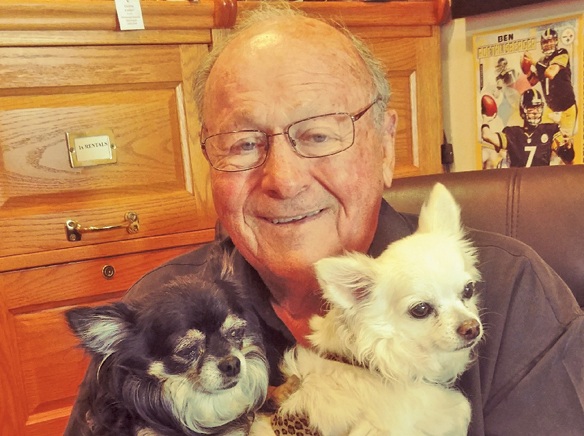 Throughout his life, Jim Klisanin has always found a way to score big.
Born to immigrant parents in a scrappy Pennsylvania steel town, Klisanin has used his energy, determination and old fashioned hard work to create a legacy of achievement and spectacular financial success.
His story began in McKeesport, Pennsylvania (near Pittsburg) and his dream has taken him on an amazing journey across eight decades and 2,443 miles to his adopted hometown of Seal Beach.
Klisanin's family saga began in old world Croatia as family and friends pitched in to get his dad, Ivan (John), on the H.M.S. Impertor and off to a better life in America. John Klisanin came through Ellis Island in 1917, records show.
His mother Lubja came over approximately two years later, brought over to work in a family's coffee and donut shop in McKeesport, Pennsylvania.
"Apparently my dad drank a lot of coffee, because he married my mom in about 1919," Klisanin says.
Jim was the third of the couple's four children, having two older brothers, Steve (a former Mr. America and Mr. Universe) and Bill and a younger sister Goldie. "It was a hard, but good life," back in the steel mill town. Klisanin's dad worked in construction and was able to get them summer jobs. For Jim, it taught him one of the many lessons he still preaches today. "It's not what you're given, but what you're willing to work for and create for yourself."
Even then, Jim pushed limits. He remembers many "run-ins" with the nuns of the Sacred Heart Croatian Catholic School, "but I realize now in my life it was more me than the nuns." He smiles.
Jim soon discovered a love for sports. "I learned very quickly that I could express myself better in sports than in the classroom." He loved the playground and the ballfield.
Simultaneously, Klisanin demonstrated exceptional physical characteristics and impressive agility. His hand eye coordination was exceptional, and he began to excel in all sports. In high school, he played baseball, basketball and football.
Klisanin remembers high school coach Dean Schaffer like it was yesterday. In fact, he remembers everyone who ever inspired him and is quick to give them credit for what he learned from them. Another of his lessons is "pay it forward. Somebody gave it to you so pass it on."
Klisanin enjoyed a tremendous high school football career and desperately wanted a scholarship to play football at either Pitt or Penn State. Trouble was, he didn't fit the mold of a star player. He was not that tall, kind of stocky, though super-fast, and after tryouts at both, Klisanin was sadly told no scholarships were available.Even then, Klisanin's iron will began to show. His willpower was as strong as the steel in McKeesport. Then, as now, he simply would not take 'no' for an answer.
One of his high school football buddies who had received a scholarship at Wichita State invited him to come to Kansas for practice. "Little did I know that the coach had invited 50 other players to do the same thing," Jim remembers.
Still, he went, but no scholarship. But it was there that Coach Jack Mitchell would begin to have a profound impact on his life. Not just in his life's trajectory, but Mitchell also instilled in him values that he would carry with him until this day.
After telling Klisanin there were no scholarships available, Mitchell did let Klisanin continue to scrimmage with the team. Klisanin began to impress Coach Mitchell enough for him to offer a "partial scholarship" and a part-time job on campus that was sufficient for him to pay for books and other expenses.
Klisanin took that tiny opportunity and never looked back. In his freshman year, he started as a fifth-string halfback. By the end of that year, he was the team's first string running back, having scored three touchdowns. "Coach Mitchell was a psychology major and he used every bit of it on me," says Klisanin. Mitchell. "He said all the right things. He knew how to get the very best out of me."
Under Mitchell's influence, Klisanin led the team to three straight Missouri Valley Conference Championships in 1954, 55 and 56. Klisanin was an outstanding running back and, on defense, an award winning outside linebacker. Moreover, Klisanin was selected as an "All Missouri Conference" player all three of those years and honorable mention All American for two of those three years. Ironically, the scrappy kid who refused to take no for an answer was inducted in the Wichita State Shocker Football Hall of Fame in 1984.
After graduating, he entered the first of three marriages, took a job with Cessna Aircraft and other jobs before coming to California a decade later at the urging of a former teammate. Soon, he was teaching and coaching at Oak Junior High (now Middle school). While Klisanin was coaching baseball, he wanted football. He got his chance when another coach recognized him from his college days while attending a USC track meet. Within months, Klisanin was gone from Oak and was now coaching football and teaching industrial arts at Walker Junior High in LaPalma.
It was in this position that Jim's true character began to show. He began to instill the same pride and values in his players that Coach Mitchell had instilled in him. Moreover, he began to show his community leadership qualities as well, mobilizing his player's parents to build a weight room and raise money to buy needed equipment.
In 18 seasons, Klisanin led the Walker Vikings to 137 wins and 18 championships. It was clear. If Jim was in, he was in to win, a hallmark that has stayed with him throughout his life. "Once I decide to do it, I don't stop until I get it done," he admits. Even today, his now 50-something-year-old players stop in to say thanks and hello.
Towards the end of his coaching career, Jim made another decision. Even though he knew "little or nothing" about real estate, he wanted in. "I knew I wanted to do it and knew I wanted to be successful at it."
While still coaching, he used his free time and his coaching desk phone to dabble in real estate. He went to work for someone else, but that didn't work out, so Jim started Baytown Realty. It was 40 years ago this year that he opened for business.
After school, he knocked on doors from 4:30 p.m. till sundown, and from 10:00 a.m. until noon on Sunday. Anytime he could catch someone home, Jim came a knocking. "I was into social networking before social networking was a thing," he says.
His daughter Shana says once her dad discovered Seal Beach, "he knew this was where he wanted to be." It had the same values he'd left back in Pennsylvania, but smaller at that time, it offered opportunity as well.
Klisanin is a motivator, at home and in everything he does. "If you think, you can," he says. "Picture yourself being successful, and you will be," he thinks. Before taking the field, Klisanin would tell his players to "picture yourself making the best play of the game."
When his children were young, Klisanin would literally cut out pictures of cars and other things he wanted to obtain and pasted them around his bathroom mirror. "I grew up in that environment," said Shana. "I watched him do it. Slowly, he achieved everything he wanted."
Klisanin coached and opened his real estate business, struggling at first, but using his determination to make it work. He bought a small house in Seal Beach, opened a small office, then another office on Ocean Ave.
Soon, he'd made enough money to buy the building he now occupies on Main Street and business began to improve and finally flourished. "He would do open houses on Sunday, he still does open houses on Sunday," remembers local businessman Bob Griffith. "Jim would put in the work to create success."
Though Klisanin is currently celebrating 40 years in the real estate business, his shadow of his influence has touched every aspect of community life during that period.
Some say Klisanin has a Midas touch, in that everything he touches, explodes with growth. A number of people interviewed for a documentary on Jim's life, agree.
Seth Eaker, a friend who has served in organizations with Klisanin, claims Jim does things his way because his way works. "That's not a selfish statement it's a self-actualized statement. He ignores the naysayers, and that's hard."
Longtime associate Brian Kyle says Klisanin "has the guts to stand up for what he believes."
"He's a bulldog," says local businessman Bob Griffith. "Everything he does is the best because he works on it until he makes it that way."
Shana says her dad is a natural builder, who can immediately spot potential and put together people with the skills necessary to ensure that potential is realized.
"He's a coach and a big picture guy," she says. So far, it's worked in most everything Klisanin has attempted.
Early on in his real estate career, Klisanin got involved in key community organizations such as the Seal Beach Chamber, the Seal Beach Lions Club, Cypress Community College and others. Klisanin demonstrably improved them. He served as President for most of the organizations at one point or another, but he is legendary for recruiting members, organizing initiatives and getting things done.
"Jim is a guy really hard to turn down," according to longtime friend and fellow Lions Club member, Scott Newton. Stan Anderson, another friend, said Jim is not like others who get in these clubs, build relationships then slip away. "Jim got in. Stayed in. He did a lot of good for the community."
Deb Machen, a local businesswoman also heavily involved in the community, says there is a "very generous" side of Klisanin that few people see. She says he rarely says no to the constant stream of people and organizations looking for help.
Klisanin reportedly self-funded the Seal Beach Christmas Parade when it was struggling. He was immediately asked to become parade chairman. He accepted, and in 29 years built the parade from 30 minutes in length to more than three hours.
"Jim has an ability to listen. He stopped selling a long time ago and today simply builds relationships," says Eaker, who has been mentored by Klisanin and took over the parade chairmanship from him.
Now in a reflective period of his life, he says "love is the most important lesson" and he practices what he preaches. He loves his business. He loves Seal Beach and of course, he loves his beloved Pittsburgh Steelers (has a Steeler shrine in his office). Heck, Jim believes we "should love everyone; even when it's hard."
Klisanin admits "family" is the "last chapter" of his life. He has been married three times to wives Judy, Joan and Janet. "Although none of them have lasted a lifetime, I loved each one of them and they loved me." He has three children, four grandchildren and three great grandchildren. For 84 years, Klisanin has loved his life and most everyone -and everything- in it. He has the courage to follow his dreams, the stamina to make things happen and the wisdom to make it look easy.
And while he urges others to "love what you do and do it well," perhaps no one better exemplifies this than Klisanin himself. He has indeed scored big in the game of life.