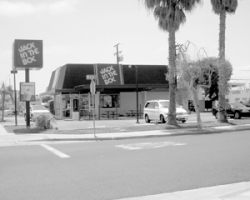 The Seal Beach Jack in the Box on Pacific Coast Highway will be replaced by a Fresh & Easy Neighborhood Market.
Mark Persico, Seal Beach director of Development Services, told the Sun that Fresh & Easy Neighborhood Market Inc. would tear down the Jack in the Box and put up a new building in its place.
Persico said he had no idea when this would happen.
However, he said the Jack in the Box restaurant at 800 PCH was definitely leaving.
As for the Fresh & Easy market, Persico said that "they have applied for a conditional use permit for alcohol."
The Seal Beach Planning Commission will hold a public hearing on the question at the agency's Wednesday, July 20 meeting.
Historically, alcohol permits in the Old Town area of Seal Beach are controversial. The California Department of Alcoholic Beverage Control officially regards the area as having an over-concentration of alcohol permits. However, the state agency will still issue alcohol licenses if local agencies issue permits authorizing them.
Fresh &Easy Neighborhood Market Inc. applied to the ABC for a license to sell beer and wine on Friday, June 8.
According to Persico, the request to sell alcohol is the only question the Planning Commission will address.
Persico said the new building, when it is constructed, and its intended use are permitted "by right" under the Seal Beach Municipal Code.