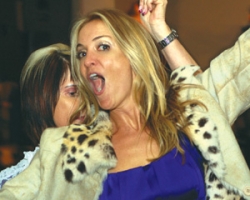 The 95th Seal Beach Founders Day celebrations kicked off to a very successful and fun night  on Saturday, at the Old Ranch Country Club.
People dressed in costumes of various time periods in the history of the city by the sea … and they danced the night away.
It was a time for the young and old to twist the night away and dream of those scintelator lights that used to illumniage the evening waves at the old Seal Beach pier. More than everything, it was a moment in time when Seal Beach folk forgot their differences of where the town should be led politically, and focused instead on their common ground. They all agreed that they love Seal Beach – today, tomorrow and yesterday.
More celebrations and activities are to follow. Here are the highlights:
Saturday, Oct. 9, concert by the pier provided by the Chamber of Commerce during the Main St. sidewalk sale.
Sunday, Oct. 10, a parade that will take us back in time on the green belt in the center of old town that will be The Joy Zone for one day.  Visitors rode a roller coaster called The Derby in 1915 in the Joy Zone and watched scintillator lights at the end of the pier. We will have bands on two stages with rotating groups playing a variety of selections. Come join us for a parade, rides, food booths, and music.
If you would like to participate in The Joy Zone with a booth, a band, or a stage presentation, call (431) 3466, or 430-6490 430-0595.
The Red Car Museum will be open on Festival Day allowing Founders Day celebrating "A Time to Remember. Imagine, stepping out of the Red Car into the Joy Zone once more."
Shirt sales will continue Saturday and Sunday at the pier, 9 a.m. – 1 p.m. Wear your shirt and meet me on the Joy Zone.
Wednesday, Oct. 27, the actual incorporation date, a slideshow of selected historic photos of which most have never seen. This show will be presented at the Marina Community Center from 7:30 – 9:30 p.m.
Details to follow.
Please log on to the Web site: www.sealbeachfoundersday.com. With gratitude to our sponsors so far: Silver – Consolidated Disposal Service; Bronze – Sea Air Federal Credit Union, Seal Beach Family Medical Group; Patron – Woman's Club of Seal Beach Sponsors will receive the following benefits leading up to and during Founders Day: Recognition in event programs, press releases, web site, Cable TV- 3, and the City's Community Services Recreation Guide, as well as special recognition at events, festival, and parade. For more information contact: Carla Watson (562) 598-9294.