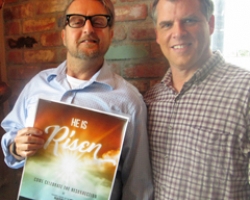 Come Celebrate Good Friday at Calvary Chapel of The Harbour (16450 Pacific Coast Highway) in Sunset Beach at noon on March 30. A special worship service will be led by Senior Pastor Joe Pedick, followed by communion.
There's also an Easter Service—"He is Risen"—lead by Senior Pastor Joe Pedick at 10 a.m. and noon on Sunday, April 1. Both events are free.
Calvary Chapel of The Harbour Assistant Pastor Chad Harris invites everyone to attend these services.
"These are my two favorite events of the year and have so much meaning that will help and encourage everyone," said the longtime Sunset Beach resident. "I encourage people of all ages to come and enjoy the excitement and camaraderie. You will be blessed by it," Harris said.
David Westerlund, assistant teaching pastor, said, "On Easter Sunday, we invite you to celebrate with us the greatest event in the history of Mankind—the day our Lord and Savior Jesus Christ conquered death by rising from the dead!" said
Dave's the son of Pastor Carl Westerlund of Calvary Chapel Costa Mesa.
For more information, contact 562-592-1800 or visit: http://www.ccoth.com.