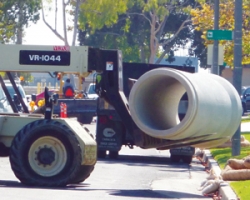 Don't bother sitting at the bus bench near the Bay Theatre in Seal Beach. The bus won't come until March 2011.
Bus route 42/42A has been detoured—the bus no longer travels west on Electric Avenue, turning right on Pacific Coast Highway instead.
Commuters who use the bus to get to downtown Seal Beach must walk to Main Street.
The bus detour is the result of the Electric Avenue storm drain replacement project.
"The contractor Excel Paving will be constructing the new storm drain pipe on Electric Avenue from Seal Beach Boulevard to 14th Street," according to a city press release. Excel Paving will also install new storm drainpipes on 14th, 15th and 16th Streets. "The contractor is currently working on 17th Street installing the main pipe; construction of the catch basins will follow. The estimated completion time is mid March 2011," said the press release.
The bus detour isn't the only change resulting from the project.
"Heavy traffic control has been placed on the streets and parking is now allowed on Electric Avenue," said the press release.
Indeed, cars are now lined up on both sides of the eastbound part of Electric Avenue.
No vehicles other than construction vehicles are parked on the westbound side, separated from the eastbound side by the Green Belt.
Bike riders should know that the bike lane is also officially closed on Electric Avenue.