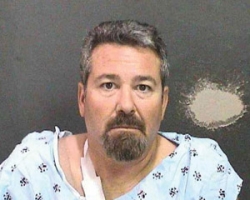 A judge on Friday, Aug. 20, sentenced a Garden Grove man to 15 years to life for the DUI murder of a College Park East woman.
Alex David Trujillo, 45, will be 60 when he first becomes eligible to apply for parole.
He was apparently under the influence of alcohol and prescription drugs at the time the crime occurred.
Trujillo has a prior conviction for drunk driving.
Trujillo's truck hit Cathy Busse, 46, and her son Sam Busse, then 14, on Sunday afternoon, Oct. 12, 2008. Sam Busse, who has autism, survived. Cathy Busse ultimately did not.
A jury convicted Trujillo of second degree murder in June.
It was the second time that driving under the influence had brought Trujillo to the attention of the criminal justice system.
In May 2002, he pleaded guilty to driving with a blood alcohol level of 0.08 or more, according to occourts.org.
As part of his sentencing, he took an alcohol awareness class and a Mothers Against Drunk Driving panel, according to the DA's Office.
Victim impact
Friends and family members came to court Friday to give victim impact statements prior to the sentencing.
The sentencing hearing was originally scheduled to take place in the morning. It was rescheduled to 1:30 p.m. and then 2:30 p.m.
According to Angela Biscan, one of Cathy Busse's two sisters and Sam Busse's godmother, the judge limited victim impact statements to three family members and one representative of the autism community.
"How ironic is it that the innocent one, the one who has been impacted the most by the defendant's disregard for others and Cathy's tragic death, is her son, Sam, who can not speak about what is deep within his heart and mind," Biscan told the court.
Sam Busse, now 16, has autism with apraxia—a condition that leaves him without the ability to speak and without the small motor skills needed to communicate by sign language.
"He cannot express the loss of the constant love and support that he needs to survive successfully in this life.  His life has been changed forever," Biscan said.
Cathy Busse's husband Ben also spoke.
"At the time of Cathy's death, we had been married for approximately 16 years," said Ben Busse.
"We had only one son, Samuel, who suffers from autism. Cathy lived and breathed for our son," Ben Busse said.
"Now I am faced with an uncertain future about what will happen to Sam in the event of my death," Ben Busse said.
"When Trujillo killed Cathy, he destroyed a very important life. It is so difficult to explain how our lives have been affected by Cathy's death," Ben Busse said.
Biscan also told the court about her sister, calling her a charming, funny woman, a fitness fanatic with an MBA from Loyola Marymount and a vice president in the credit  union industry.
But above all that, Biscan said she was "a warrior mom," a term used to describe mothers of autistic children.
"She assisted many others with autistic children, as can be attested by the numerous warrior moms that came to the hospital and funeral.  Many said they would still be lost, and their child helpless, if it was not for her," Biscan said.
Biscan said the judge also allowed the family to show a video of Busse dancing, mostly with Sam, on her anniversary the day before the accident.
The court also allowed the family to show a video of Busse while she was on life support. Biscan said she believed that video had a major impact on the court.
The collission
Cathy and Sam Busse were bicycling on Lampson Avenue on a late Sunday afternoon in 2008 when the collission occurred.
The truck was reportedly traveling at 45 m.p.h. when it went up the curb and struck mother and son as they were riding their bikes on Lampson Avenue.
According to the Orange County District Attorney's Office, Trujillo had a blood alcohol level of 0.11 at the time.
Initially, the DA's Office issued statements that his blood alchol level was 0.16.
During the trial, prosecutors introduced evidence that Trujillo was also under the influence of several persription drugs, including Oxycontin, Vicodin, Xanax and Soma.
On the afternoon of the accident, Trujillo and the Busses were taken to the hospital.
Sam Busse was treated for minor injuries at the hospital and released later that day.
On Tuesday, Oct. 14, doctors told the family that Cathy Busse did not show any signs of brain activity, according to then Sgt. Bob Mullins (now Lt. Mullins) of the Seal Beach Police Department. The family had Busse taken off life support.
Busse died on Wednesday, Oct. 15.
When Trujillo was released from the hospital on Saturday, Oct. 18, Seal Beach detectives arrested him for murder.
When the case was filed in court, the charge was initially vehicular manslaughter. The charge was later changed again to murder.
A funeral service was held for Biscan at St. Catherine's Catholic Church in Seal Beach on Thursday, Oct. 23, 2008.