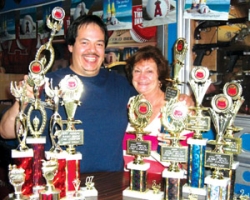 It's about hot fun in the summertime and turning up the heat on your tastebuds.
The Sunset Beach Chili Cook-off turns 13 this year.
"This year's Chili Cook-Off promises to be the best yet," said Angie Kassell of the host, the Sunset Beach Woman's Club.
Along with club member Jennie Kellogg, Kassell is again co-chairing the event that raises money for local charities.
The event, which is one of the biggest annual happenings in the beachfront enclave will be held starting at 11 a.m. until … in true Sunset Beach fashion … the chili runs out.
The fun will take place in the Sunset Beach Community Center at 12th Street and Pacific Coast Highway in Sunset Beach (behind the Sunset Beach Fire Station).
Kassell said she and Kellogg have great expectations for this year's chili cook-off to generate money for the Sunset Beach Woman's Club's charity fundraising. "It may be the thirteenth, but we believe that it's a lucky number," Kassell said.  "We are getting the feeling of excitement mounting among the chili teams who are gearing up to provide their best chili and compete for the 'Peoples Choice Award,' 'The Judges Choice Award' and the 'Best Decorated Booth.'"
Kassell said that everyone working for the event is a volunteer.
Local musicians will also be donating their time and including The Sunset Beach All Stars Band, Chuck Davis, Bryan Cunningham and Robby Armstrong.
"The Woman's Club and Community Members will be working the bar, raffle, hot dogs and Tee Shirt Sales," Kassell said. "This year we have a limited edition apron sponsored by Image First Healthcare Laundry Specialists."
In addition, Sharp Electronics has donated a 42" LC HD television for the event's grand raffle prize and local businesses are stepping up with prizes and donations to support this event, raffle tickets are only $1 each.
"Many thanks to all who contribute," Kassell said. "Without their help we would not be able to award scholarships to our local students."
Last year the Woman' Club awarded five students and the organization's members hope to continue the trend with proceeds from the Chili Cook-Off.
For more information call Jennie at (562) 505-7558 or Angie at (714) 369-7771