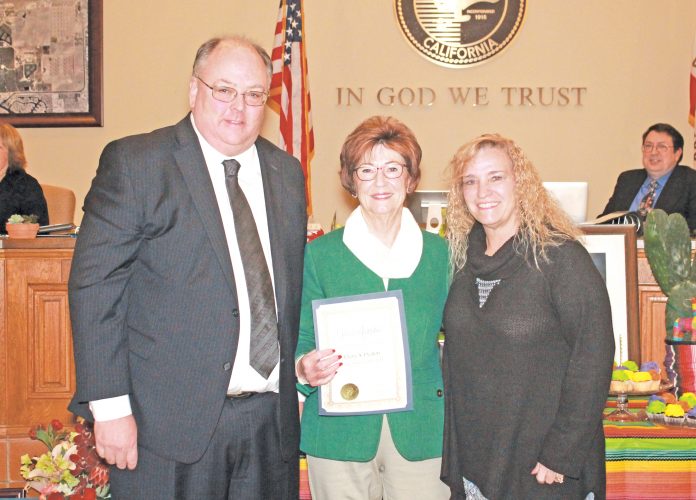 Ellery Deaton's last City Council meeting representing District One was held on her birthday, capping 16 years in Seal Beach government.
Mayor Thomas Moore wished her luck in her next adventure, "which I hear involves building a house south of the border."
Deaton called the night "a bittersweet moment of moving on." She said none of it would have been possible without the voters and she thanked them for their trust.
"Serving this town has been a very serious affair," Deaton said. She said her first years on the council brought the Salon Meritage murders, fires and Bubba the Pig. She said she was amazed at how many things have come to the town during her eight years on the council.
Among his first comments as a sitting council member, District One Councilman Joe Kalmick thanked Deaton for her service.
The City Council Chambers were nearly packed at the start of the meeting with all but the last row of seats reserved for either outgoing Councilwoman Deaton's guests or incoming Councilman Joe Kalmick's guests.
Deaton said three of her four children and nine of her 12 grandchildren were present.
"I'd like to welcome Ellery to retirement," said District Five Councilwoman Sandra Massa-Lavitt.
"Are you joining me?" Deaton asked.
Massa-Lavitt said she and Deaton met when they were on the Planning Commission. Massa-Lavitt said Deaton talked her into running for the District Five seat.
District Four Councilwoman Schelly Sustarsic thanked her for her years of service to Seal Beach.
Mayor Thomas Moore said she took complex issues and found simple solutions. As an example of her work on the council, Moore pointed out that the State Lands Commission had wanted Seal Beach to pay $80,000 to lease the beach. Deaton had worked to oppose the state's action, which Moore said saved the city $80,000.
Orange County Supervisor Michelle Steele gave the first of 12 presentations to honor Deaton's eight years on the council and eight years on the Planning Commission.
Steele presented Deaton with a cake and lead the audience in a rendition of "Happy Birthday."
During a recess/reception for Deaton following the presentation, her successor, District One Councilman Kalmick said he thought it was very nice that so many people from various public agencies came.
Presentations to Deaton lasted nearly an hour, and included plaques and certificates from Long Beach Councilwoman Suzie Price, Los Alamitos Councilwoman Shelly Hasselbrink representatives of the Los Alamitos Unified School District, the Naval Weapons Station, three representatives of the Orange County Sanitation District, Orange County Fire Authority, the California League of Cities (OC Division), Boeing, Seal Beach Chamber of Commerce President Karen Kuns and Seal Beach Community Performing Arts Association founder Esther Kenyon.
The head of the Surfside Home Owner Association presented her with a bouquet of flowers.
In addition to the presentations scheduled on the council agenda, Deb Machen read an original poem to Deaton and businessman Jim Klisanin thanked her for coming to his office to see him shortly after he had his two beloved dogs put down.
Prior to the meeting, the Sun asked Deaton what she saw as the high and low points of the last eight years.
"I believe the high point of my tenure on the Council was being Mayor for two terms and the ability to complete the projects I was elected to do: 1. The Rivers End Park, while not completed, is well underway. 2. Refurbishing Main Street with lighting and trees to give it the ambiance it needed. 3. Saving and restoring the Old Cottage originally housed at Anaheim Bay. 4. Getting the Bay Theater sold to a great entrepreneur who is restoring it. 5. Repairing and maintaining our antique fire engine. 5. The new Tot Lot 6. Completely re-doing Ocean Avenue with pedestrian-safer crosswalks in reflective paint and reflectors. All of these in addition to the day to day work of filling potholes, tree trimming, beach cleaning, budgeting and taking care of resident's needs," Deaton said.
"The low point has to have been the Salon Meritage murders. It deeply grieved our community and me," Deaton said.
"The one project I have been unable to do anything about is the Historical Red Car. If there is one thing I'd like to have been able to do it would have been to have the City take over the care and maintenance of the Red Car. It is in serious need and is such an integral part of our community it needs to be cared for. Unfortunately, the City does not own it and is unable to take over its care," Deaton said.
In response to a request for a comment from the city manager's office, the city's official statement said, "The City of Seal Beach would like to thank Councilmember Deaton for her many years of service to our community. She has been an exceptional advocate for the residents of Seal Beach and a great defender of the values and virtues that we cherish and hold dear. Councilmember Deaton has been a champion for local control and for her constituents in District 1 for 16 years. That is an enormous accomplishment as it illustrates her devotion to public service. We wish her the very best as she steps down from office and begins the next phase of her life."
Deaton's critics did not speak at the meeting. She's had many since she was part of the unanimous City Council vote to approve re-zoning the former DWP property to allow the construction of residential housing on the property. The land had been zoned to build a small hotel and 70 percent of open space. The land, now owned by Shea Homes, is located on First Street. Though the development remains controversial, her biography cites the park construction that comes with the development among Deaton's achievements. "Just coming to fruition, is the 6.5 acre park on First Street which was vacant and fenced since Ellery lived here in the '60s. Today this park has been dedicated at no cost to the City of Seal Beach. Seal Beach will have a brand new, turn-key park delivered to them this year. It is currently under construction," according to the biography.