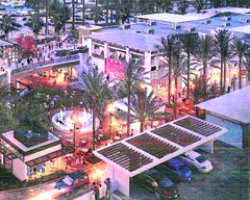 Demolition crews recently began tearing down the SeaPort Marina Hotel. In it's place will rise the "2nd and PCH" center, a 245,000 squre foot mix of retail shops and restaurants in Long Beach but located near the Seal Beach border. According to news reports, the commercial development will be completed in 2018.
The 2nd and PCH project will include a 25,000 square foot health club, and a 55,000 square foot Whole Foods grocery store, according to a Long Beach Development Services Department staff report.
In May, the Seal Beach Environmental Quality Control Board determined that the draft environmental impact report did not adequately address the project's potential impact on traffic. The board directed Seal Beach staff to include that finding in a letter responding to the Draft EIR.
Some local business owners are concerned about the competition.
However, in response to an online request for comments about the project's impact on Seal Beach, local man John Osborn said, "A positive one. The property was well beyond its lifespan."
According to Seal Beach Assistant City Manager Patrick Gallegos, "The City received a letter from the developer requesting that the City no longer oppose the project in exchange for partial funds to make a minor improvement to only one of the five intersections that will be impacted by the project.
"On September 7, 2017, the [Seal Beach] City Engineer spoke at the Long Beach Planning Commission meeting and delivered a letter to reiterate the City's request to continue the item and acknowledge that the developer's offer was a good first step but was not enough to mitigate the impacts on the community.
"City staff prepared a letter to the Long Beach City Council reiterating the impacts that project would have on Seal Beach and urging them to direct the Long Beach Planning staff and developer to work with Seal Beach to reach a resolution to this matter."
The Long Beach Planning Commission approved the 2nd and PCH project in September. Demolition began about two weeks ago, after two groups opposing the project withdrew their appeals of the Planning Commission's decision to the Long Beach City Council.
Attorneys representing Coalition for Responsible Equitable Economic Development, reached an agreement with the developers to reduce greenhouse gas and other emmissions.
On Oct. 3, Long Beach Citizens for Fair Development withdrew their appeal.
Previous proposals for the project area had included residential developments, but those proposals never became reality.
There are already two shopping centers located at the intersection. The Marketplace center is home to a Trader Joe's, a restaurant and the UA Theatres. The Marina Pacific center includes a Ralph's and a AMC Theater. Both centers include restaurants and retail shops.
A third shopping center, located down the block from the former SeaPort Marina Hotel site, the Marina Shores center is currently home to a Whole Foods store and a PetCo.