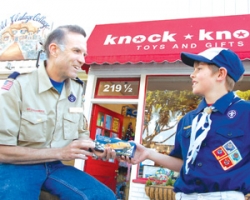 There will be about 500 classic cars and hot rods positioned around the Main Street area at the Seal Beach Classic Car Show on April 30. There will also be an additional assemblage of tiny cars made of pinewood and paint that will have been carved with care.
It's that time of year again in Seal Beach when dads and sons, under the banner of the Cub Scouts bond in the tradition of hand-made creations to enter in the Car Show's Pinewood Derby.
The Pinewood Derby was added to the Seal Beach Chamber's Car Show in 2006, when the organization's president at the time, Matt Murphree, decided the Car Show could use something to soften its reputation and add a family-style event that could reflect the city's sense of community. It worked. The event seemed to immediately take on a family fun atmosphere, with more parents than before, shepherding their kids, many hoisted on their dad's shoulders as they made their way along the Car Show's walking paths. "It brings a family element to an already All-American event that enriches our culture," Murphree said.
This year, the Pinewood Derby is co-coordinated by Cub Scout Race Chairman John Morgan with the help of Brian Warner, who is overseeing the Car Show for the Chamber for Commerce for his second year in a row. Seal Beach Cub Scout Pack 116 will host the Pinewood Derby. The model car races go back to the innocent days of the 1950s and 60s, before video games, the Internet and e-mail.
The public is invited to join in the fun and race their favorite Pinewood Derby car from years past or build a new car.  Registration, inspection, and check-in will begin at 11 a.m. next to the Seal Beach Pier.
Kits for new cars can be purchased locally at Knock Knock Toy Store at 219 1/2 Main Street, Seal Beach.  Racing rules, information, and car specifications are also available at Knock Knock. Volunteers from Cub Scout Pack 116 will be on hand to provide information on Cub Scouting and kids can win a trophy.
"The entire car show will be open from 10 a.m. to 3 p.m.," Morgan said. "Free parking will be available at Alamitos Bay Landing and a free and fun shuttle service aboard the "Big Red Bus" provided to downtown Seal Beach and back." In addition to the Pinewood Derby, there is also the rest of the Car Show to enjoy.
Over the years, the Seal Beach Classic Car Show has grown to 530 cars with 30 different categories ranging from Best Woodie to Best American Sports Car to Best Antique to the overall Best in Show.
This year car lovers will see some stellar dragsters. Local drag race car historian Dave Mandella will once again bring his outstanding collection of record setting dragsters of the '60s: The Wing Express, once driven by Wild Willy Borsch and Don Garllit's Swamp Rat III.
The Seal Beach Car Show was also the first Car Show selected to exhibit the finished and restored Shirley Muldowney AA Fuel Dragster, her first World Record setting car of 1977. The Car Show will also have some ear candy as guests may enjoy bands playing throughout the day with music ranging from Blues to surfing to Irish Celtic.
For more information contact the Seal Beach Chamber of Commerce at (562) 799-0179 or by e-mail at director@sealbeachchamber.org.