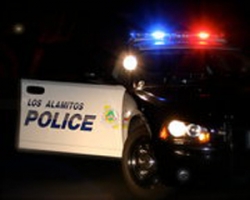 Los Alamitos Police officers recently recovered a bicycle that was stolen from a 10-year-old girl.
Officers cleaned up the bike up so the owner could recognize it when it was returned to her, according to Capt. Bruce McAlpine.
This is the story, as told by McAlpine:
Police first received the report of a stolen bike on the 4600 block of Green Avenue at 8:46 p.m., Monday, Jan. 2.
Officers found the victim, a 10-year-old girl, who was too distraught to provide police with useful information.
The loss: a yellow beach cruiser bicycle—that is, yellow when the owner last saw it about two hours before the police were called in.
As it turned out, around that time another Los Alamitos officer saw two boys with a yellow bicycle. And he recognized one of the boys as someone the police had dealt with in the past.
When that officer learned about the Green Avenue theft, he spoke with his colleagues. Los Alamitos Police officers contacted the known juvenile. It turned out that he did not commit this particular crime. However, contacting that suspect led the police to another suspect.
The police went to the new suspect's house and spoke with his mother. The boy's parents had observed a bike in the garage that didn't belong to them.
McAlpine said the boy's mother gave police permission to look in the garage.
There, officers found a beach cruiser bike—recently spray-painted black. McAlpine said it wasn't a particularly good paint job.
The officers cleaned up the bike so the victim would be able to recognize her property.
Child and bike were reunited.
As for the bike thief, he was arrested. However, he is apparently a juvenile so the police could not release his name. He will now enter the juvenile justice system. That part of the legal system is closed to the public, so the story ends there.
To make a comment on this story at the Sun Newspapers' Web site, go to www.sunnews.org.
One defendant pleads guilty in New Year's mugging
A Rossmoor resident was convicted last week for his role in a Los Alamitos mugging that occurred on New Year's Eve.
Jared John Julian, 22, pleaded guilty to one count of second-degree robbery at his preliminary hearing on Wednesday, Jan. 18. The court dismissed the second count of second-degree robbery against Julian.
The court sentenced Julian to three years probation, 365 days in the Orange County Jail and ordered him to pay restitution to his victims.
The crime occurred on the last night of 2011 at about 10:59 p.m. Two men started speaking with two other men in a parking lot—and demanded the second pair surrender their property. The victims lost cash, credit cards and two smartphones.
According to Capt. Bruce McAlpine, of the Los Alamitos Police Department, one of the two men Julian was accused of robbing recognized him from when they were in high school together.
The victims reportedly remembered the second suspect's face, but not his name.
Julian was arrested on New Year's Day.
Julian's co-defendant, Los Alamitos resident Jesse John Ruiz, 19, remains in custody following his Jan. 18 preliminary hearing. He is scheduled to be arraigned on Thursday, Feb. 2. He is being held without bail in the county jail. Ruiz pleaded not guilty at his Jan. 5 arraignment.
Crime Log Compiled
by Charles M. Kelly
IN SEAL BEACH
Monday, January 9
Hazard—5:37 p.m.—Westminster Avenue and Midway—The caller said an electric pole was hanging low on the north side. Police unit 206 determined there was a telephone or cable wire hanging 6 feet off the ground, not obstructing traffic. No further police services were necessary.
Defraud Innkeeper—10:18 p.m.—Main Street—The caller said three individuals would not pay their bill. The tab: $25. The matter was solved when restitution was made and Seal Beach Naval Weapons Station personnel escorted the individuals back to their ship.
Tuesday, January 10
Suspicious Person—1:50 a.m.—A Row, Surfside Colony—The caller, relaying second-hand information, said a man was walking by vehicles and checking the doors. Police unit 207 interviewed him in the field and warned him about trespassing. He was driven to Anderson and South Pacific.
Vehicle Burglary—7:41 a.m.—B Row, Surfside Colony—The caller, a security guard, reported that a resident's car had been burglarized. Report taken.
Extra Patrol Checks Requested—8:43 a.m.—Bolsa Avenue and Balboa Drive—The caller said motorists were driving past the school bus every morning when it was displaying the stop sign and red light. The caller said the incidents occur between &:50 and 8 a.m.
Dead Cat—9:07 a.m.—Electric Avenue and 13th Street—The caller said there was a dead cat in the grass on the north side of Electric Avenue. Referred to Long Beach Animal Care Services.
Wednesday, January 11
Traffic Hazard—2:59 p.m.—Forrestal Lane and Seal Beach Boulevard—The caller, relaying second-hand information, said there was a large bag of trash blocking the far right lane going southbound on Seal Beach Boulevard, south of Forrestal.
Thursday, January 12
Burglary Report—7:32 a.m.—Catalina Avenue—Loss: tool box and miscellaneous tools. Report taken.
Burglary Report—10:30 a.m.—Crestview Avenue—Someone  broke into the caller's garage and then into the caller's vehicle. Loss: a GPS system, sewing machine and other miscellaneous items. The GPS was valued at $750.
Burglary Report—1:17 p.m.—Anchor Way—The caller said someone broke into the attached garage between 7 p.m., Wednesday, Jan. 11, and the time of the call to police. Loss: head phones valued at $200. The thief also rummaged through the car.
Friday, January 13
Medical Aid—11:34 a.m.—Seal Beach Boulevard and Aldolfo Lopez—A woman was yelling that she needed poison control. A passer by on a bike saw that the baby was vomiting and used a cell phone to call 911. Police and the Orange County Fire Authority arrived. The child was treated and released at the scene. Assisted.
Warrant Service—5:02 p.m.—Seal Beach Boulevard—An individual was arrested on an outstanding warrant for possession of methamphetamine.
Transient—6:53 p.m.—Pacific Coast Highway—The caller said a man was yelling at customers that he needed food and money. The caller said the man was aggressive toward anyone he approached. Police unit 241 arrested the man for public drunkenness.
Saturday, January 14
Disturbance—1:47 a.m.—Main Street—The first caller reported a disturbance that the caller thought might be physical—the caller heard glass breaking. A second caller said someone had been struck in the head and needed medical aid. Police unit 206  contacted the victim who was reportedly injured. The victim said he fell while leaving the bar. A woman who was with him said she was not injured either. One individual was arrested for public drunkenness.
Suspicious—2:03 p.m.—Neptune Avenue—A citizen found a bone, apparently about 100 feet out on the jetty.
The citizen asked for the police to respond. The citizen did not know if it was a human or animal bone. It turned out it was not a human bone. It may have been the remains of a sea creature. Assisted.
Sunday, January 15
Disturbance—1:31 a.m.—Rossmoor Center Way and Seal Beach Boulevard—Someone was throwing oranges at vehicles. The caller didn't know where they were coming from.
The officer in unit 341 determined that the individuals responsible for throwing the oranges had been asked to leave before the officer arrived. They were described as male. The log did not say if they were adults or children.
Bike Theft—10:24 a.m.—Ocean Avenue—Someone took a bike from the side of the building. The bike was worth at least $2,000, possibly $2,400. No suspect information. Report taken.
Stray Animal—4:38 p.m.—First Street—The caller said a white Labrador was running around the location. Long Beach Animal Care Services handled.
Citizen Assist—4:53 p.m.—Landing and 14th Street—The caller asked for an officer to help him find his car. He could not remember where he parked it. The vehicle was reported as located by 5:01 p.m. Assisted.
IN Leisure World
Wednesday, January 11
Burglary Report—5:44 p.m.—Merion Way, Mutual 2—Leisure World Security called on behalf of a resident who believed her perscription medications were stolen from her apartment. The woman was upset and disconnected. Report taken.
Los Alamitos
Tuesday, January 17
Broken Glass—1:02 a.m. –Los Alamitos Boulevard–The caller reported that someone threw a rock through the front glass door of a store.
There appeared to be no entry and the back door was secure. Security company was responding and call was standing by to wait for emergency board up company to arrive.
Patrol assisted the situation.
Tuesday, January 17
Suspicious Occupied Vehicle—1:47 p.m.–Cherry Street—The caller reported that a man had been sitting in a white Toyota Camry for the past 20 minutes.
The caller had contacted police earlier regarding a similar looking vehicle and that it might be the same one.
Patrol contacted the man. He was just sitting in the car listening to music.
Tuesday, January 17
Illegal peddler—5:08 p.m.– Cherry Street—The caller reported two individuals selling security systems in the neighborhood and thought they looked suspicious and did not have a permit. Patrol contacted the salespeople, found they had no permit and sent them on their way. Patrol contacted their boss, who was cooperative.
Saturday, January 14
Suspicious Person – 1:17 a.m. —Los Alamitos Boulevard—The caller reported that a woman had been standing in the parking lot for the past two hours.
She was described as in her 50s with grey sweatshirt and jeans, possibly transient. Patrol contacted the woman.
She was just walking around on the public sidewalk, smoking a cigarette.
Friday, January 13
Suspicious Occupied Vehicle – 4:44 a.m.—Howard Avenue—The caller reported a silver vehicle occupied by four men. The car was blocking a driveway and the caller feared it was drug related. Patrol contacted the men. They were waiting for the son of one of car's occupants.
Friday, January 13
Suspicious Circumstances—5:50 p.m.—Florista and Los Alamitos—The caller reported seeing a vehicle with a subject in a white body bag inside. The caller said it looked suspicious, but could not say why she felt it was a body. Car checked out OK and the "body bag" was a Christmas tree wrapped in a blanket.
IN ROSSMOOR
Monday, January 16
Grand Theft Report—2:53 p.m.—Martha Ann Drive.
Tuesday, January 17
Identity Theft—3:32 p.m.—Walker Lee Drive.
Wednesday, January 18
Suspicious Person or Circumstances—1:53 p.m.—Davenport Road.
Burglary Report—2:04 p.m.—Katella Avenue.
Grand Theft Report—3:36 p.m.—Foster Road.
Thursday, January 19
Petty Theft Report—7:15 p.m.—Kensington Road.
Friday, January 20
Unknown Trouble—2:32 a.m.—Montecito Road.
Suspicious Person in Vehicle—1:12 p.m.—Hedwig Road and Pemberton Road.
Burglary Report—9:02 p.m.—Tigertail Drive.
Ted Apodaca of the News-Enterprise contributed to this article.