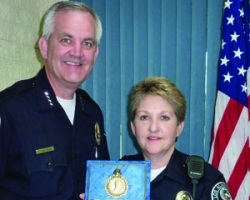 A crime victims' advocacy group honored Los Alamitos Police Sergeant Sharon Kerbow on Friday, April 23 for "going above and beyond the call to empower the victims of crime."
Kerbow received her award from Crime Survivors, Inc. at the group's Annual Awards Banquet at the Westminster Rose Center.
"Although customer service is a priority for all employees in Los Alamitos, no one takes it more seriously than Sergeant Sharon Kerbow. Recently completing a rotation in the Detective Bureau, Sergeant Kerbow is back in patrol where she takes compassion to another level," her nomination form said.
"Whether she is comforting a victim who suffered a violent crime, protecting a witness to a homicide, or investigating a case in which a charity was the victim of fraud, Sharon proudly wears her heart on her sleeve," the nomination said.
In a telephone interview, Capt. Bruce McAlpine said rotations in the three-person Detective Bureau are normally three years.
Kerbow returned to patrol in January.
"And she loves patrol, so she's a happy camper," McAlpine said.
According to the Los Al Police blog, Kerbow is now a watch commander. Kerbow was promoted to sergeant in 2000.
"She frequently extends herself beyond her workday by providing her personal cell phone number or reaching into her own pocket to feed a hungry stranger. She'll stop by to check on victims from previous crimes and ensure that they have the resources they need," the blog said.
The Web site for Crime Survivor's, Inc. is www.crimesurvivors.org.
The Web site for the Los Alamitos Police Department blog is http://losalamitospolice.blogspot.com.
Crime Log Assembled by Charles M. Kelly

The crimes listed in the Sun Newspapers were reported to Seal Beach Police Department, Los Alamitos Police Department and Orange County Sheriff Department between April  26 and  May  9, 2010.
Only street names are used; times given are reported times, not incident times. Crime Log entries are based on preliminary information. Space limitations make it impossible to publish every incident. Until proven guilty in a court of law, all suspects are considered innocent.
IN SEAL BEACH

Monday, April  26
Vehicle Burglary—7:38 a.m.—Ocean Avenue—Point of entry: possibly the driver and passenger side doors. The caller found the doors ajar.
Vehicle Burglary—7:51 a.m.—4th Street—Police unit 111 found a possible case of attempted vehicle burglary. The registered owner did not desire a report.
Vehicle Burglary—8:02 a.m.—3rd Street and Central Avenue—Police unit 111 was unable to make contact at the home of the vehicle's registered owner. Note left.
Vehicle Burglary—8:26 a.m.—Central Avenue and 4th Street—Report taken.
Vehicle Burglary—8:34 a.m.—3rd Street and Central Avenue—Loss: tennis bag. No report desired by registered owner.
Vehicle Burglary—8:41 a.m.—4th Street—Police unit 111 left a note. At 5:20 p.m., police unit 113 made contact with the registered owner. No report desired..
Vehicle Burglary—8:56 a.m.—2nd Street and Ocean Avenue—Report taken.
Tuesday, April  27
Welfare Check—2:12 p.m.—Seal Beach Boulevard—The caller reported a Hispanic woman in her early 30s in the parking lot with an infant and a sign asking for money.
Bike Stop—11:34 p.m.—7th Street—An individual was arrested for public drunkenness as a result of this call.
Friday, April  30
Auto Theft Report—7:45 a.m.—Montecito Road—The vehicle was last seen during the evening hours of Thursday, April 29.
Vehicle Burglary—12:10 p.m.—Montecito Road—The caller contacted police unit 111 directly to advise that her second vehicle had been broken into. The vehicle was unlocked. Someone entered the vehicle. Nothing was taken. The caller was counselled.
Vehicle Burglary—5:59 p.m.—Pacific Coast Highway—The crime apparently occurred between 10 a.m. and the time of the report to police. Point of entry: a baseball bat was used to enter through the front driver side window. Loss: a purse. The vehicle was ransacked. Report taken.
Saturday, May 1
Burglary Report—6:33 a.m.—Main Street—When the caller arrived, the back door was open and the caller discovered the office had been burglarized.
The name of the business was blacked out in the log.
IN LEISURE WORLD

Wednesday, April  28
Disturbance—11:16 a.m.—St. Andrews Drive, Leisure World Main Gate—According to Seal Beach Police Sgt. Steve Bowles, public information officer for the department, a man stopped at the Leisure World main gate and asked for admittance. He gave the address he wanted to visit.
According to the log, the man wanted to see his grandmother.
He was denied entrance to the retirement community.
He drove through the main gate.
According to the log, the driver almost collided with several people as he drove through the gate.
Leisure World Security told police they thought he had a handgun.
Bowles said knowing the address he planned to visit and having a description of the vehicle helped. Police found his vehicle outside the residence that the suspect had planned to visit.
Police officers, including Sgt. Bowles, surrounded the residence. They made two calls into the house to convince the suspect to come outside.
The second call got him to come outside.
Once outside the residence, police ordered him to lay on the grass so he could be searched for weapons.
He refused. Police used a taser to subdue him.
Ultimately, Robert Scott, 53, was arrested for trespassing and resisting arrest.
No one was injured.
IN LOS ALAMITOS

Monday, May 3
Disturbance Subjects—9:14 a.m.—Katella Avenue—The caller said a woman was screaming in customers' faces and harassing employees. When police arrived, officers were told the woman had left the area.
Tuesday, May 4
Disturbance Noise—1:46 a.m.—Howard Avenue—The caller heard a loud TV coming from above her residence. Officers came on two different times and didn't hear anything.
Wednesday, May 5
Suspicious Person—3:53 p.m.—Bloomfield Street—A suspect on a bicycle, described only as a male, was reportedly trying door handles.
Thursday, May 6
Suspicious Person—8:02 a.m.—Los Alamitos Boulevard and Orangewood Avenue—Someone who looked like a teenager was carrying a sleeping bag and holding stuffed animals as she walked down the street. The caller thought she looked like she was running away from home. Officers found the woman to not be a juvenile but a transient.
Friday, May 7
Illegal Peddler—7:04 p.m.—Denwood Avenue—An unspecified number of men were reportedly selling sod out of a truck.
Saturday, May 8
Municipal Code Violation—7:04 p.m.—Howard Avenue—A man was reportedly going through dumpsters in the alley clad in his underwear. He was not wearing a shirt. Officers found no one matching the suspect's description.
Sunday, May 9
Suspicious Persons—10:32 a.m.—Cerritos Avenue—About 15 people were reportedly loitering in a parking lot. Officers found members of a car club who said they would leave the area.
IN ROSSMOOR

Monday, May 3
Keep the Peace—5:31 p.m.—Christy Lane.
Keep the Peace—6:15 p.m.—Christy Lane.
Tuesday, May 4
Suspicious Person or Circumstances—5:21 p.m.—Blume Drive.
Wednesday, May 5
Suspicious Person or Circumstances—11:19 p.m.—Copa D'Oro Drive.
Vandalism in Progress—12:58 p.m.—Montecito Road and Bradbury Road.
Thursday, May 6
Vandalism Report—1:08 p.m.—Orangewood Avenue.
Stolen Vehicle—6:02 p.m.—Salmon Drive.
Friday, May 7
Keep the Peace—2:31 p.m.—Kempton Drive.
Burglary Report—6:41 p.m.—Wallingsford Road.
Suspicious Person or Circumstances—7:26 p.m.—Orangewood Avenue and Los Alamitos Boulevard.
Shots Heard—7:47 p.m.—Bradbury Road—No suspect information.
Suspicious Person or Circumstances—9:59 p.m.—Foster Road and Chesney Drive.
Traffic Accident, Unknown Injuries—10:30 p.m.—Foster Road.
IN SUNSET BEACH

Thursday, May 6
Suspicious Person in Vehicle—8:01 a.m.—S. Pacific Avenue and 7th Street.
Friday, May 7
Disturbance, Music or Party—10:01 p.m.—N. Pacific Avenue and 25th Street.
Brian Smith of the News-Enterprise contributed to this article.