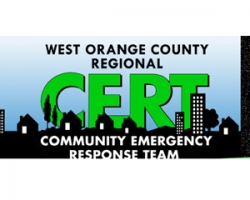 An 8-year-old boy received an honorary certification from the West Orange County Emergency Response Team on Saturday, June 4 at the Joint Forces Training Base in Los Alamitos. Kai Quinonez was honored, along with 60 grown up graduates of the CERT program's 24-hour basic training program in emergency preparedness.
OK, strictly speaking that isn't crime news—but isn't it nice to read about something good happening in the Crime Log now and again?
The CERT graduates came from the cities of Seal Beach, Los Alamitos, Cypress, Westminster, La Palma and Buena Park. Gus Quinonez, Kai's father, said his son's initial interest in CERT came about in March, when members of the CERT organization assisted in Kai's Bone Marrow Drive at Keller Williams Realty in Los Alamitos. At the time, approximately 800 people turned out to register as bone marrow donors, give blood or just to show support for Kai, who has aplastic anemia, a rare and serious blood disorder.  He became blood-transfusion and platelet dependent late last year. He now receives blood transfusions on a weekly basis.
Kai told his parents that he wanted to become associated with CERT because they obviously share his interest in helping others.
The CERT graduation ceremony was held at the Veterans Center on the Joint Forces Training Base.
For more information about Kai, go to his Web site: www.Kaispage.com.
Kai is encouraging everyone to join the National Bone Marrow Registry as he most likely will require a bone marrow transplant and needs to find a match. To join, click on "www.marrow.org/Join" and enter the code when prompted: "forkai."
For more information about CERT, visit www.westcountycert.com, e-mail westcountycert@yahoo.com or call (562) 556-6700.
To make a comment on this story at the Sun Newspapers' Web site, go to www.sunnews.org.
Crime Log Assembled by Charles M. Kelly
The crimes listed in the Sun Newspapers were reported to Seal Beach Police Department, Los Alamitos Police Department and Orange County Sheriff Department between May 23 and  June 3, 2011.
Only street names are used; times given are reported times, not incident times.
Crime Log entries are based on preliminary information. Space limitations make it impossible to publish every incident.
Until proven guilty in a court of law, all suspects are considered innocent.
IN SEAL BEACH
Monday, May 23
Fraud—1:55 p.m.—Seal Beach Boulevard—The caller reported that a woman bought a digital camera from Target using counterfeit traveler's checks. Police unit M6 confirmed the forgery and arrested the woman.
Tuesday, May 24
Patrol Check Requested—12:57 p.m.—Montecito Road—A man came to the caller's front door and said he was with a pest control company. The caller did not request pest control services and slammed the door on the man.
Counseling—6 p.m.—Seal Beach Boulevard—A woman lost her wallet. She went to Seal Beach Police Department headquarters and asked to speak with a policeman about replacing the contents of her wallet.
She was advised she would have to get her identification replaced by the Department of Motor Vehicles. She insisted on hearing the information from a police officer.
Wednesday, May 25
Animal Information—8:36 a.m.—Canoe Brook Drive—The caller said there was a squirrel in his bedroom.
The squirrel was not attacking him, but he requested Long Beach Animal Care Services.
Referred to Animal Care Services. The police unit was cancelled before it could be dispatched.
Thursday, May 26
Transient—9:59 a.m.—Bolsa Avenue—The caller reported an individual described as a transient sleeping near the electric box at the baseball field.
The individual, whose gender was not specified in the log, was advised to leave. The individual left the area.
Burglary Report—10:44 a.m.—1st Street—The crime originally occurred on Monday, May 23. A citizen walked into Seal Beach Police Department headquarters to report that someone stole his clothing. His clothing was returned clean and washed. The citizen was counseled.
Grand Theft Report—8:52 p.m.—15th Street—Someone stole two bikes from the location between 6:30 and 8:30 p.m. One was a man's mountain bike, black and one was a purple beach cruiser with a basket. Report taken.
Friday, May 27
Grand Theft—11:33 a.m.—Spinnaker Way—A citizen reported the theft of jewelry valued at $4,500.
Vandalism—1:48 p.m.—Camella Street—Someone egged the caller's car sometime during the night.
Saturday, May 28
Counseling—6:36 p.m.—Provincetown Street—The caller's house and yard were toilet papered sometime during the night. The caller said he had in the past confronted juveniles who were in the park without permission. He believed these juveniles were responsible for toilet-papering his property. He wanted to speak with an officer. He was advised to call the police when he sees juveniles in the park.
Vandalism—12:31 p.m.—14th Street and Electric Avenue—The caller requested contact with a police officer to discuss an ongoing graffiti problem. He had already cleaned up the graffiti. He requested extra patrol checks from the graveyard shift.
Sunday, May 29
Burglary in Progress Reported—2:19 a.m.—1st Street—The caller reported seeing a man with a flashlight break into an apartment through the door. Police unit 207 contacted the suspect, who turned out to be the resident of the apartment. He had been trying to get into his own home.
IN LOS ALAMITOS
Thursday, May 26
Fight—7:52 p.m.—Toland Avenue—Two juveniles were seen fighting as a third juvenile watched. One juvenile looked as though he had been head-butted. The responding officer determined the juveniles were play-fighting. They said they would comply.
Friday, May 27
Unknown Trouble—9:50 p.m.—Kinmount Street—The caller heard a lot of screaming and saw a white SUV pull up. Someone grabbed a female and pulled her into the vehicle. The white SUV was last seen heading towards Kaylor.
Saturday, May 28
Disturbance—7:06 a.m.—Katella Avenue—A man was running around scaring employees. He was gone by the time a police unit arrived.
Two minutes later, the man again ran in and out of the business.
He was last seen at the rear. The responding officer contacted and evaluated the man. He was arrested.
Sunday, May 29
Suspicious Person—11:35 a.m.—Farquhar Avenue—A man on a bike had a golf club and made gestures as if he was shooting at kids in the park.
He was last seen heading towards Los Alamitos Boulevard. The man had a blue towel around his neck.
Monday, May 30
Barking Dog—4:13 a.m.—Walnut Street—The caller complained about an on-going problem with a barking dog located to the south of the caller.
The dispatcher advised the caller to contact Long Beach Animal Care Services in the future.
The caller said the residents should be home and the caller wanted police to tell them to quiet the dog.
Police apparently advised the dog's owners and they said they would comply.
Tuesday, May 31
Reckless Driver—10:40 a.m.—Cherry Street and Florista Street—An elderly woman in dark blue Honda two-door was driving erratically on Cherry, last seen going less than 5 m.p.h. She backed into another vehicle, but caused no damage. The caller said the woman was now in the parking lot. The driver was still in the vehicle. The responding officer assisted. A friend came to pick up the driver.
Wednesday, June 1
Disturbance—5:59 p.m.—Cerritos Avenue and Chestnut Street—Two teenagers were jumping off a sign that was on the north side of the street. The caller was afraid they would get hurt.
Thursday, June 2
Vehicle Burglary—9:43 p.m.—Cerritos Avenue—The caller reportedly saw two men as they appeared to be breaking into a gold-colored truck. The suspects just started the vehicle. One suspect was wearing a black T-shirt and the other was wearing a plaid shirt. The suspects left the parking lot in the gold truck, headed towards Bloomfield. Then they stopped. One suspect got out of the truck and got in a black Jetta. The second subject drove off in the gold truck, traveling northbound on Bloomfield.
Responding officers stopped both vehicles.
Officers found that the registered owner of the gold pick-up truck had locked himself out of his vehicle. The second suspect was the registered owner's cousin, helping him out.
IN ROSSMOOR
Tuesday, May 31
Suspicious Person or Circumstances—12:09 p.m.—Silverwood Drive and Martha Ann Drive.
Disturbance—11:52 p.m.—Mainway Drive.
Wednesday, June 1
Suspicious Person in Vehicle—12:20 a.m.—Martha Ann Drive and Walker Lee Drive.
Vandalism Report—12:06 p.m.—Los Alamitos Boulevard.
Drunk in Car—9:12 p.m.—Bradbury Road and Wallingsford Road.
Thursday, June 2
Suspicious Vehicle—12:59 a.m.—Foster Road.
Suspicious Person in Vehicle—7:35 a.m.—Montecito Road and Copa De Oro Drive.
Friday, June 3
Suspicious Person or Circumstances—10:26 a.m.—Los Alamitos Boulevard —An arrest was made as a result of this call.
IN SUNSET BEACH
Monday, May 30
Disturbance—1:52 a.m.—Pacific Coast Highway.
Disturbance—9:37 p.m.—Pacific Coast Highway and 9th Street.
Disturbance—11:44 p.m.—Bayview Drive.
Tuesday, May 2
Disturbance—2:17 a.m.—Pacific Coast Highway.
Friday, June 3
Assist Outside Agency—12:25 a.m.—Pacific Coast Highway and 23rd Street.
Shelley Henderson of the News-Enterprise contributed to this article.