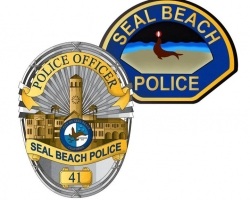 Terry Lybrand wants to thank a man who helped her when she fell on the Seal Beach Pier the day the end of the iconic structure was reopened.
"I think he said his name was Spike," Lybrand said. She also thinks he lives on Marine.
Seal Beach Marine Safety Lifeguard Chief Joe Bailey confirmed that lifeguards responded to a medical call for a person on the pier at about 5:15 p.m., Friday, May 24.
According to Lybrand's account, she was making her way to the end of the pier on Friday to see the newly reopened deck when she fell. She never made it to the end of the pier, which was scheduled to reopen that evening at 5.
She said her nose split open. It was bandaged when she came to the Sun office seeking help in finding and thanking the man we'll call Spike.
"He was sweet to me; so kind," she said. Lybrand said that when she fell, Spike asked permission to use her sweat shirt to stoop the flow of blood. He stayed with her until lifeguards responded. One of the Seal Beach Lifeguards gave her a ride. She said she was taken first to Los Alamitos Medical Center, where she said she received six stiches on her chin.
A Lifeguard took her home.
In addition to her nose, she suffered minor injuries to her elbows, both knees and what she described as a contusion hn her ribs. She said the doctor advised her it would take weeks.
"I'm not the only person that's tripped, fallen," she said. Lybrand believes the decking was uneven.
Mostly, she wants to thank Spike.
Crime Log Compiled by Charles M. Kelly
Editor's note: This week's Seal Beach Crime Log is based on a detailed version of the log from 6:13 a.m., May 24 to 4:8 a.m., May 25. The document was 46 pages long. The log covered 123 incidents. Space does not permit listing of all incidents or arrests.
IN SEAL?BEACH
Friday, May 24
Municipal Code Complaint (Priority 3)—6:13 a.m.—Seal Beach Boulevard—An anonymous caller complained about noise from a leafblower. Police apparently advised/warned/cautioned the responsible party.
Pedestrian Check (Priority 3)—8:06 a.m.—Pacific Coast Highway—Police stopped a pedestrian. Based on a warrant, police arrested Heather Wurst on suspicion of driving a car on a suspended or revoked license, and failure to provide proof of insurance.
Found Property (Priority 4)—8:24 a.m.—Ebb Tide Place and Coastline Drive (The Hill)—The caller found a bullet casing on the ground and picked it up.
Counseling (Priority 3)—8:36 a.m.—Seal Beach Boulevard—Police counseled a caller concerning a flat tire. The caller believed the flat tire might possibly be related to a vandalism incident that occurred on Thursday, May 23.
Counseling (Priority 3)—12:53 a.m.—First Street—The caller wanted to speak with the police about what he described as an on-going problem with trash being left at the front door. The caller said on that day there was a crack in his windshield that he felt was related. However, no one answered the door when police arrived.
Abandoned Car (Priority 4)—1:06 p.m.—Central Way and First Street—An anonymous caller reported what the caller described as an on-going problem with a possibly abandoned truck that the caller thought might be over the weight limit. The car was apparently marked.
Theft (Priority 3)—1:39 p.m.—Pansy Circle—A citizen came into the lobby of Seal Beach Police Department Headquarters to report that an unknown person accessed the citizen's bank account. Report taken.
Disturbance (Priority 2)—4:08 p.m.—Ocean Avenue—The caller said three boys (of unspecified age) were skateboarding in front of the caller's home and refusing to leave. As of 4:11 p.m., the juveniles were standing by on public property, waiting for the police. The caller was advised not to make any further contact with them. However, according to the log, police were unable to locate them.
Welfare Check (Priority 2)—4:59 a.m.—Chatham Way—The caller was attempting to contact a friend. The caller hadn't heard from her in three weeks. As of 5:16 p.m., police went to the friend's location. The resident told police she would phone the caller.
Welfare Check (Priority 2)—7:19 a.m.—10th Street—The caller reported an elderly woman stumbling and drinking what the caller apparently said was alcohol. Police arrested Kimberly Elliott on suspicion of public intoxication.
Haz Mat Spill (Priority 2)—8:05 p.m.—Stanford Lane—The caller complained about a paint thinner smell coming through a vent in the front door of a residence. Police spoke to someone doing construction at the location. That individual told police that he was venting out a room before leaving for the night.
Saturday, May 25
Traffic Stop (Priority 4)—12:21 a.m.—Westminster Avenue and Bolsa Chica Road—Police stopped a car. Police arrested Telena Precious Henderson on suspicion of driving under the influence of alcohol and driving with a blood alcohol content of 0.08 percent or more.