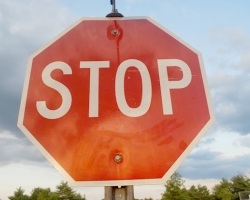 Seal Beach Police are seeking a hit-and-run driver who struck a local child just days before his 11th birthday, according to the victim's father.
The boy suffered only minor injuries.
Steve Julien of Old Town told the Sun that his son Wes Julien was on his way to school Friday morning, April 16, when the collision took place.
According to Steve Julien, relaying his son's account second-hand to the Sun Newspapers, it was about 7:30 a.m. when a white pick up ran a stop sign at the intersection of Electric Avenue and 12th Street. The truck then reportedly hit the then 10-year-old boy.
Wes Julien celebrated his 11th birthday on Monday, April 19.
He was riding his bike and wearing his helmet when the collision occurred.
"That's probably what kept him from going under," his father Steve Julien said.
He said Wes suffered multiple bruises  among other injuries.
According to the boy's account, the driver stopped, looked around, showed his face and then continued driving.
Steve Julien said the motorist drove around the fallen boy before driving away. The suspect was described as a white man, about 50 years old, with short hair, a blond mustache and beard.
The vehicle was described as a a mid-size white pick up with black grill guard.
Steve Julien said it was the guard that struck his son.
Steve Julien is concerned that the hit-and-run driver is a threat to other people.
He reported the crime to the Seal Beach Police Department at 4:14 p.m., Friday, April 16. The incident was recorded in the police log for that day. The names were blacked out in the log. However, the location and time of the hit-and-run matched Steve Julien's account.
To make a comment on this story at the Sun Newspapers' Web site, go to Sunnews.org.
Rossmoor crime states: Three burglaries in first quarter

By Charles M. Kelly
There were three burglaries and one robbery during the first quarter of 2010, according to Lt. Bob Wren, commander of North Patrol for the Orange County Sheriff's Department.
Wren delivered the quarterly crime statistics to the Tuesday, April 13 meeting of the Rossmoor Community Services District Board of Directors.
His predecessor, Capt. Tom Gallivan—who is now commander of North Operations for the Sheriff's Department—introduced Wren to the board.
Wren then presented the crime statistics to the meeting.
The Sheriff's Department breaks crimes down into three groups: Part I, Part II and Part III.
"Part I offenses include criminal homicide, forcible rape, robbery, aggravated assault, burglary, larceny-theft, motor vehicle theft and arson," according to the report.
There were 12 Part 1 crimes reported in Rossmoor during the first three months of 2010.
Part II offenses include vehicular manslaughter, embezzlement, fraud, vandalism, weapons law violations, sex offenses (other than forcible rape), offenses against the family and children, narcotics law violations and driving under the influence.
There were 26 Part II offenses reported in Rossmoor during the first quarter.
"Part III offenses include vehicles handled, stolen and recovered property, traffic accidents, medical aid, non-criminal deaths, mental cases, inebriates, and missing persons," according to the report.
There were 23 Part III offenses reported in Rossmoor during the first quarter. In all, there were 505 calls for law enforcement services in Rossmoor in January, February and March 2010. There were 617 calls for service in the last quarter of 2009.
To make a comment on this story at the Sun Newspapers' Web site, go to Sunnews.org.
Crime Log Assembled by Charles M. Kelly

The crimes listed in the Sun Newspapers were reported to Seal Beach Police Department, Los Alamitos Police Department and Orange County Sheriff Department between April  5 and  April  17, 2010. Only street names are used; times given are reported times, not incident times. Crime Log entries are based on preliminary information. Space limitations make it impossible to publish every incident. Until proven guilty in a court of law, all suspects are considered innocent.
IN SEAL BEACH

Monday, April  5
Petty Theft Report—8:47 a.m.—Montecito Road—Someone stole a cell phone from the caller's unlocked vehicle sometime during the night. Report taken.
Identity Theft—7:36 p.m.—10th Street—Someone used the caller's Social Security Number to open up bank accounts. Report taken.
Tuesday, April  6

Counseling—12:25 p.m.—Seal Beach Boulevard—Two motorists apparently got into an argument over a parking space. One motorist, a woman, got out and reportedly hit the second motorist's car with her hand. The second motorist phoned the police  just as the woman was leaving. The caller insisted on speaking with an officer. The officer counseled the caller.
Vehicle Burglary—4:42 p.m.—Westminster Avenue—There were no details about the crime in the log.
Traffic Stop—10:56 p.m.—405 Freeway and Seal Beach Boulevard—Police unit 120 apparently made a DUI arrest as a result of this call. The name of the suspect had not been confirmed at press time.
Wednesday, April  7
Counseling—9:39 a.m.—th Street—The caller has garden statues that look like ducks. The caller said someone had stolen the ducks during the night and returned them on the front porch in the morning.
Trespassing—3:15 p.m.—Seal Beach Boulevard—An individual collecting voter signatures for was in front of the location and refused to leave when asked. Police unit 111 counseled the individual. The log did not say what cause or party he might have been collecting signatures for.
Thursday, April  8
Petty Theft Report—5:57 a.m.—17th Street—The caller unlocked his car and then when back inside the house. When he returned, he discovered that some of his property had been stolen from the vehicle. Loss: wallet, checkbook, cameras, guitar and keys. No suspect information. Report taken.
Friday, April  9
Booking—9:04 a.m.—Seal Beach Boulevard—A pay-to-stay inmate was booked into the city jail.
Saturday, April  10
Disturbance—6:55 p.m.—Welcome Lane—A white man described as a transient was standing at the entrance to the trailer park, yelling and screaming. He was upset because he had been asked to leave. Police unit 123 counseled him and he left.
Sunday, April  11
Disturbance, Music—1:09 p.m.—Ocean Avenue—The caller said a man had a piano in the bed of his trunk. The caller's complaint: he was playing and singing both loudly and poorly. Police unit 113 counseled the piano man about making noise and he said he would comply.
IN LEISURE WORLD

Friday, April  9
Vandalism Report—4:14 p.m.—Interlachen Road, Mutual Unknown—The right passenger window of the caller's car was broken during the night. Report taken.
IN LOS ALAMITOS

Monday, April 12
Traffic Hazard—6: p.m.—Farquhar and Rochelle—A van was reportedly blocking traffic. Officers assisted in getting the matter solved.
Tuesday, April 13
Suspicious Person—8:36 a.m.—Farquhar and Maple—A man walking his dog reportedly hit the animal with a newspaper.
Wednesday, April 14
Suspicious Occupied Vehicle—7:49 a.m.—Howard and Maple—The caller looked into a suspicious vehicle. The person inside the vehicle ducked down like he didn't want caller to know what he was doing. Officers spoke to the person in the suspicious vehicle.
Thursday, April 15
Welfare Check—8:14 a.m.—Farquhar and Los Alamitos—An individual in a grey vehicle nearly hit a crossing guard about five minutes before the call to police. The crossing guard was shaken up, but okay.
Saturday, April 17
Suspicious Person—1:33 p.m.—Pine and Rossmoor—An individual was reported going door to door talking but is not selling anything. Officers spoke to an individual and advised the person to discontinue their behavior.
Sunday, April 18
Disturbance Juveniles—3:07 p.m.—Katella Avenue—A number of juveniles were loitering in front of a business, making it difficult for people to get in and out. Officers broke up the gathering.
IN ROSSMOOR

Monday, April 12
Suspicious Person or Circumstances—4:45 p.m.—Blume Drive—A caller reported a person that was unknown to the area.  Deputies stopped and detained the individual, but determined nothing suspicious occurred.
Tuesday, April 13
Stolen Vehicle—7:27 p.m.—Inverness Drive—Deputies determined that the vehicle was not stolen. However, the vehicle was towed away for other (unknown) reasons.
Wednesday, April 14
Grand Theft Report—4:36 p.m.—Donnie Ann Road—Report taken.
Burglary in Progress—6:03 p.m.—Martha Ann Drive—Someone stole a bicycle from a garage.
Deputies checked the area and found the bike, but were unable to locate the suspect. Report taken.
Thursday, April 15
Suspicious Person or Circumstances—4:17 a.m.—Quail Run Road—An individual was reported on foot in the area.
Burglary Report—7:14 a.m.—Copa D'Oro Drive—No burglary occurred. No further information was available.
Saturday, April 17
Disturbance, Family Dispute—3:09 p.m.—Quail Run Road—A woman reused to leave the residence. By the time the deputy arrived the unwelcome guest had left.
IN SUNSET BEACH

Friday, April 16
Disturbance—7:23 p.m.—N. Pacific Avenue and Warner Avenue—The caller reported a loud gathering of juveniles on the greenbelt. They were gone by the time deputies arrived.
Saturday, April 17
Narcotic Violation—12:51 a.m.—N. Pacific Avenue and Warner Avenue—A deputy cited an individual for possession of marijuana.

Brian Smith of the News-Enterprise contributed to this article.