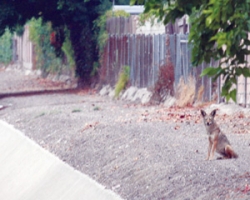 The coyote problem in Rossmoor continues to grow as one resident found out last week.
Alice Owens, a 50-year Rossmoor resident who lives on Tigertail, was watching her daughter's dog Buster, a terrier.
She thought Buster was on the bed sleeping with her but realized he had gone out the dog door to go to the bathroom.
She went out to the yard looking for him only to find a coyote standing over her daughter's dead dog.
Owens said she chased the coyote away and saw it leap a 12-foot high fence. She is in shock, mortified and now has to tell her daughter, who is on vacation, of Buster's death.
She notified OC Animal Care and they said they were sorry but took no further action.
At the present time, coyotes are looking to expand their territory and home range, which goes on through October. This explains the increased number of sightings.
Upon receiving a report of a sighting/attack/killing, Rossmoor Predator Management Team officials have consistently heard this statement: "We live within the tract; nowhere near Martha Ann."  "We thought we were safe from coyotes."
According to a recent Predator Managment Team newsletter, with water control channels running throughout the Rossmoor community,  coyotes are using the channels to travel in various areas within the neighborhood.
These channels exist on Montecito Road, Kempton, Silver Fox, Foster and Martha Ann to name a few.
Additionally,  two RPMT members reported that they have witnessed coyotes running across Los Alamitos/Seal Beach Boulevard from the Los Alamitos Joint Forces Training Base.
RPMT members contacted the Department of Agriculture and were informed that the Seal Beach Naval Weapons Station maintains a number of coyotes as control for its rodent population.
The RPMT will contact the Seal Beach Naval Weapons Base to discuss what measures they are using for keeping the coyote population controlled within the base.
This is a list of  streets where coyotes had been sighted as of Friday, Aug. 20:
Aceca, Angler Lane, Argyle, Bostonian, Brimhall, Chianti (two), Foster, Foster/Gertrude, Kempton and Silver Fox, Kensington,  Loch Lomond Road (near Lee School), Martha Ann (two), Oak Grove, Oak Knoll, Piedmont Ave and Kensington Rd. St. Alban's near Christi and Chianti, St. Albans between Foster and Montecito, Tigertail and Silver Fox, Yellowtail and Silver Fox.
Coyotes are territorial. In some cases, coyotes will return to the same yard where they have killed previously. The RPMT has had reports of two incidents in which coyotes returned to the same backyard following an attack. For information on the RPMT, call Dave or Rebecca Lara at (562) 253-2330.