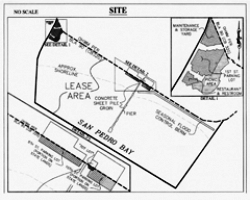 The Seal Beach City Council approved a new lease agreement for the beach area with the State Lands Commission. For the first time, Seal Beach will pay $125 a year to rent the state-owned tidelands area on which beach facilities stand.
Those facilities include everything from jetty to jetty, including pier and the First Street restraurant building that used to house River's End Cafe.
An earlier version of the new lease, approved by the State Lands Commission in August 2016, would have charged Seal Beach almost $60,000, according to a recent Seal Beach staff report.
Seal Beach resident Robert Goldberg said he gave kudos to staff for re-negotiating what he called a better agreement for the lease.
District One Councilwoman Ellery Deaton, whose district includes the beach area, said they made great progress on the lease because State Lands staff were reasonable and only wanted what was best for State Lands.
The lease agreement was a Consent Calendar item. It was or was not removed from the consent calendar.
The old lease agreement was approved in June 1967 and expired in June 2016.
In September 2016, the City Council told staff to go back to the State Lands Commission to discuss the terms of the proposed lease.
At that time, Sheri Pemberton, who is chief of External Affairs and Legislative Liaison for the State Lands Commission, said the California agency was asking for rent because land use in the beach area had changed since the previous lease had been approved in 1967.
At that time, according to Pemberton, State Lands staff had determined the land use had changed to commercial use, so State Lands staff believed charging rent would be appropriate.
However, according to this week's Seal Beach staff report, the cost of maintaining the beach exceeds the revenue the city receives from the beach. State Lands will retain the right to review the rent periodically, according to the Seal Beach report.
Rent on the beach area could increase if Stand Lands Commission determines the public benefit of the beach has been eliminated or the city gets what the Seal Beach report calls "substantial additional revenue" from subleasing beach facilities. All subleases are subject to State Lands Commission review.
Two other issues with the 2016 version of the lease were sand nourishment and the construction of the annual sand berm.
According to the Seal Beach report, State Lands would have required an amendment to the lease if Seal Beach used sand that did not come from the west side of the beach.
However, Stand Lands reportedly agreed to accept notification and written authorization insead of a lease ammendment.
According to the Seal Beach Report, the city will have to notify State Lands before building the berm, but won't need State Lands approval to build the berm.
City engineers will aslo be required to perform a visual inspection of the pier in addition to the five year structural safety inspection.