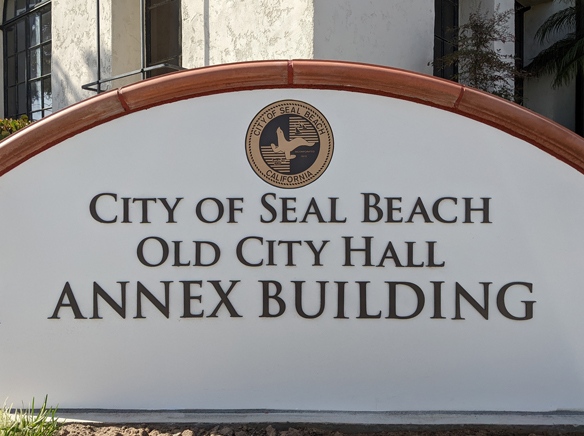 Following a public hearing, the City Council on Monday, April 24, unanimously approved fees for short-term rental permits. The council also added the fees to the city's cost recovery schedule.
No members of the public spoke during the public hearing.
Some residents have gone on social media to ask why is the city permitting vacation rentals.
In late September 2022, the council suspended the old ban on vacation rentals in response to court rulings that basically forbid cities to forbid vacation rentals. (See "City suspends enforcement of ban on vacation rentals," at sunnews.org.) The city is limiting the permits to 1% of the properties in town.
Seal Beach defines short-term rentals as properties rented for fewer than 30 days. According to the city's short-term rental FAQs, 31 permits will be available. The deadline to apply for a short-term rental permit is May 5. Email STR@sealbeachca.gov. The lottery drawing for short-term rental permits will be held May 10.
The Seal Beach council made rules allowing and regulating short-term rentals on Jan. 23, 2023, wrote Community Development Director Alexa Smittle in her staff report.
There remain some legal vacation rentals in Seal Beach allowed under conditional use permits that run with the land. In September 2022, a Smittle's staff report put the number at 14.
According to Smittle's report for this week's meeting, Community Development staff will be responsible for monitoring permits. "Community Development staff will also be the primary team responsible for monitoring and responding to nuisance complaints reported for short-term rentals. Finance Department staff plays a significant role in the Short Term Rental Program as well, managing invoicing, fees, and financial auditing of the Program. A small amount of time for the Police Department is also expected to educate Program participants on public safety issues," Smittle wrote.
Her report put the cost of the first year at $1,311.81 and for the second and following years at 571.16.
"In addition to estimating direct costs to offer the Program, staff researched short-term rental permitting fee schedules in the Cities of Huntington Beach, Dana Point, Laguna Beach, Newport Beach, and San Clemente. As shown below, the fees vary dramatically, ranging from $105 in San Clemente to over $700 per year in Dana Point and Laguna Beach," Smittle wrote.
"In all cases, the fees of the other coastal Orange County jurisdictions were lower than staff's anticipated costs," Smittle wrote.
Staff proposed a fee of $600 for the first application and $400 for annual renewal.
In response to a question from District One Councilman Joe Kalmick, Community Development Director Smittle said staff is speaking with Airbnb and Vrbo to talk about making sure that everyone is abiding by the rules.
Kalmick asked if the city had reached out in any way to the operators of already-existing, non-permitted short-term rentals.
"We have not," Smittle said.
She said they have reached out to those who have applied for, or received, a business license to operate a short-term rental while the city is the "middle-stage".
District Five Councilman Nathan Steele said he has had a short-term rental in Long Beach for about four years. "STRs, unlike the popular wisdom, STRs make good neighbors," Steele said.
"We're a very good neighbor because we want to rent our house out on the Airbnb platform at a very good price," he said.
Steele said if you don't look like a five-star hotel, you don't get a very good rating and your prices drop.
Steele asked if there was a way for the city to have standards for STRs.
Smittle said the ordinance has a set of standards.
Councilwoman Lisa Landau asked if the people with the interim permits had to participate in the lottery. "If they want to continue with a short-term rental permit, yes," Smittle said.
Smittle said that during the interim period, the city was not issuing permits.
District Four Councilwoman Schelly Sustarsic asked about the number of applications to the lottery.
"As of today, 21," Smittle said.
"Thirty-one is our working number," Smittle said.
"Is it going to be first-come, first serve," Steele asked.
According to Smittle, if they have more applicants than permits then names would be "pulled out of the hat."
Kalmick asked if the conditional use permits for vacation rentals would become business licenses.
Smittle said they would remain CUPs. "They run with the land," Smittle said.
"Those 14 units have an essentially perpetual permit," Smittle said.