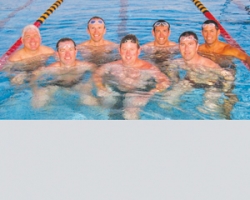 Seven local Long Beach swimmers, known as The Dawn Patrol, will swim the Catalina Channel this weekend to raise money for local charities.
Most of the swim will be at night.
Scott Meyer, Pete Cassiano, Matt Hanson, Chris Geer, Steve Schlom, Michael Bergkvist and Shawn Oatey will be doing the 28.3 mile swim relay to raise money for the Children Today, Casa Youth Shelter, Habitat For Humanity, and Breast Cancer Angels charities.  They estimate a 14-hour swim with their arrival planned for midday Sunday, Aug. 1.
A celebration party will be held at the Long Beach Yacht Club on Aug. 1 to celebrate their feat.
The group formed two years ago by a handful of middle-aged swimmers. They connected at the LBYC pool.
They are all members of the Long Beach Yacht Club and have been swimming regularly in the pool and the ocean to stay in shape and compete in many annual open-water swimming events.  Most mornings as the sun rises, they can be found in the LBYC pool.  Thursdays they are usually outside the Seal Beach Pier (swimming with the Seal Beach Sea Monkeys), and Saturdays swimming the inner bay in Belmont Shore.
They are mostly a local group and no strangers to the ocean.
I grew up in Los Alamitos," said Geer.
Meyer and Hanson were raised in Seal Beach, while Oatey and Bergkvist hail from Long Beach. Schlom grew up in Torrance and Cassiano is originally from San Diego.
"The biggest concern about swimming in the night is traffic from the port and big cargo ships," Geer said. "We have a person on the boat that will be in communication with all boats we encounter."
Sharks are also a bit of a concern.
"There are many in the channel, but that fear is more mental as they are not likely to attack people," Geer said.
The Dawn Patrol and their families take pride in being active in the local Long Beach community and have direct ties to each of the charities being supported.  In addition, they have partnered with the Long Beach Community Foundation to help collect, manage and distribute the contributions.  All donations are tax deductible and go directly to support the charities listed.
For more information or to make a donation please visit the Dawn Patrol web site at www.lbycdawnpatrol.com or go directly to www.theswim2010.com.