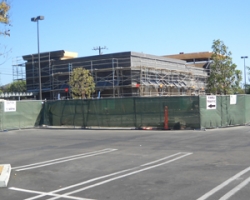 The Shops at Rossmoor construction project is a visible sign that business is improving in some areas of Seal Beach.
"We're building a 6,000 square-foot, multi-tenant building," said Jim Lynch of Century National Properties, Inc., the company that owns the Shops at Rossmoor. The shopping center is actually located within the Seal Beach city limits.
Businesses that will be moving into the new building will include Chipotle Mexican Grill, Yogurtland, Verizon and a Subway  sandwich shop.
Chipotle Mexican Grill, Inc. has applied to the California Alcoholic Beverage Control Department for a license to sell alcohol. The city of Seal Beach has already approved the conditional use permit required to sell alcohol.
The new Shops at Rossmoor building won't be the only site of new business activity in the center.
Soma Intimates will move in next to Peet's Coffee & Tea shop. A Panera Bread bakery-cafe will move into the old Parasol building.
Lynch expected interior construction work at the former site of Mel's to begin in the next "couple" of weeks.
As previously reported, Panera Bread applied for a permit to install an outdoor seating area at Mel's. The request was pulled from a recent Planning Commission agenda when city staff determined the request was allowed by right under the Municipal Code.
Lynch said the exterior of the former Parasol building would remain intact.
Lynch said Century National Properties expected all of the businesses to be open by the end of the year.
"We have a fantastic piece of real estate here," Lynch said.
"We've gone to great lengths to make it a nice place to be," Lynch said.