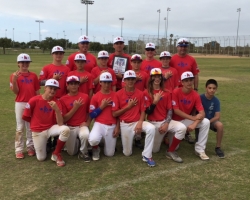 The Pony Baseball Bronco World Series will be hosted by the Los Alamitos Pony baseball league once again.  This year's event will have teams coming in from Taiwan, Puerto Rico, Mexico and various locations from across the United States.
The Bronco World series kicks off on Aug. 7 and will be held at the LAYB fields situated on the California National Guard's JFTB in Los Alamitos, California.  Below is a timeline of the World Series.  Tickets are $8 a day for ages 13 and over, $5 a day for children 5-12 and children under 5 are free.  Below is a time line of the World Series.
1. Thursday, Aug. 6, 2015 
• Arrivals begin:
• Pre-Tournament Coaches Meeting at LAYB boardroom.
• Coaches dinner
• Practice on the Mustang and Bronco fields (times TBA)
2. Friday, August 7, 2015 
• Field opens
• Noon—2 p.m. vendor set up
• 3:30 p.m. Opening Ceremonies – Pony field
• Players line up on the field
• National Anthem
• 4:30 p.m. First Pitch
• 5 p.m. game
• 8 p.m. game
• 11 p.m. Fields Close
3. Saturday, Aug. 8, 2015 
• Field opens
• 10 a.m. Home Run Derby and Skills Challenge
• Noon Meet the Pro's
• 1-3 p.m. Champions game (special needs game)
• 4 p.m. game
• 7 p.m. game
• 11 p.m. Fields Close
4. Sunday, Aug. 9, 2015 
• Field opens
• 4 p.m. game
• 7 p.m. game
5. Monday, Aug. 10, 2015 
• 4 p.m. Semi-Final Game
• 7 p.m. Final Game