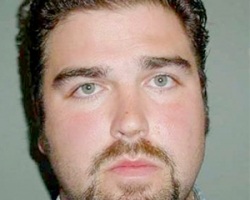 The arraignment for the man charged with the Herr-Kibuishi murders has been continued to June 25, according to Farrah Emami, the spokesperson for the Orange County District Attorney's Office.
Costa Mesa resident Samuel Herr, 26, was murdered in the Liberty Theater on the Joint Forces Training Base in Los Alamitos on Friday, May 21.
Some of Herr's remains were found on the base the following week. Some of his remains were found in Long Beach's El Dorado Park over the Memorial Day weekend.
Irvine resident Juri Julie Kibuishi, 23, was murdered in Costa Mesa on Saturday, May 22.  Her remains were found later that day by Herr's father in Herr's apartment. Herr was considered a suspect in Kibuishi's murder until authorities learned he was the first victim.
According to the Costa Mesa Police Department, Kibuishi was murdered so Herr could be implicated.
(For details of the case, see the story "A case of murder on Los AL military base" at the Sun Newspaper's Web site www.sunnews.org.)
Daniel Wozniak, 27,  another Costa Mesa resident, has been charged with both murders. He was arrested on Thursday, May 27.
Wozniak was arraigned Monday, June 1. His arraignment is scheduled to continue on Friday, June 25.
According to criminal.findlaw.com, the arraignment is the time when the judge reads the formal charges against the defendant, when the defendant enters a plea and when the issue of bail is addressed by the court.
This is also the time when the judge will schedule pre-trial hearings, the preliminary hearing and the trial date. All scheduled court dates are subject to change.
According to the Web site for the Orange County Superior Court, Wozniak is charged with two counts of murder and two "special circumstances" for each murder—murder for financial gain and having committed an additional murder.
Wozniak has also been charged with using a firearm in the commission of the crimes.
In theory, Wozniak could face the death penalty if he is convicted of one count of murder if the jury finds at least one of the "special circumstances" applied to the case. However, the District Attorney's Office only seeks the death penalty when a panel of experts at the DA's Office reviews the case and recommends the death penalty be sought.
It is not known at this time if the panel will consider the Wozniak case.
According to occourts.org, Wozniak has not yet entered a plea in the case.
Bail is rare in murder cases, though it is theoretically possible. According to the Orange County Sheriff's Department Web site, Wozniak is being held without bail.
To make a comment on this story at the Sun Newspapers' Web site, go to Sunnews.org.