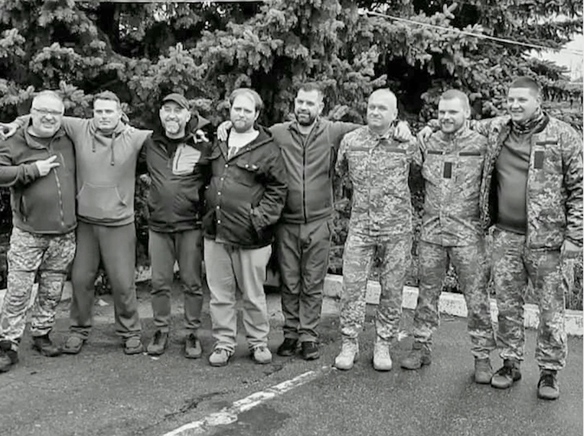 By Sean Kyle
This is my story in Ukraine. How I ended up in Berdychiv, Ukraine working in a supply hub warehouse linked with the 26 artillery units outside of Bakhmut. My journey starts out in Krakow, Poland. I took a bus to Kiev, the Capital, which was a 15 hour ride. I met up with friends who are Eli the Israeli, Conner from down under, and Nick aka Red Nick from Tennessee; he was a U.S. veteran. We all met up in Berdychiv.
Berdychiv is a Small town two hours west of Kviv. There was an organization I got linked up with from my friend Eli called Oberig-26. A two week mission turned into three months. We worked in a logistics warehouse and helped with the construction of a rehabilitation center for injured Ukrainians who are fighting.
It's one of the first rehabilitation centers in the Ukraine for wounded soldiers. On the Thursday night we would leave to Kramatorsk right outside Bokmut. We were delivering supplies to the 26th artillery unit outside and returning soldiers to Eerdychiv.
To be honest there is so much to say and write about my experience, but I want to talk about the Ukrainian People. They really need our help and support. The brave men and women I met were really amazing people. They realize this is a fight for their survival and their country. I had the pleasure to work with Irna and Igor, the founders of Obric -26. Theirs is a non-profit organization and they work with close ties to government institutions like the Ministry of Social Policy, ministries of Joint Forces of Ukraine, numerous volunteers and charitable organizations in order to support people affected by the war. This is the reality I personally experienced being in Ukraine in a town of 70,000 people having no power during the winter. Russia bombed critical infrastructure leaving millions of people without power. Watching the town band together and help each other was truly impressive.
I have the opportunity to help with supplying crucial generators, so families and local businesses have somewhat of a normal life. We also collaborated with the Ukraine military. Currently there are upward of 20,000 generators that are being sent to Poland. We need help getting the generators across the Ukrainian border, to a warehouse that is a 15-hour drive from Poland.
We need as much help as we can get. Please check out oberig-26.org website and see the rehab center for Ukrainian soldiers and all the amazing work they do. I started a GoFundMe page which says who needs it the most "power for Ukraine" and the link is on my instagram account to get generators for people the most.
I am personally going to be there to help. I really appreciate it, You can check out my instagram page to get a better understanding what i am doing @sk.ripple.effect
Ukraine and the USA have a similar story fighting for freedom and their democracy. This is their give-me-liberty-or-give-me-death moment. I am relaying a message from every Ukrainian I have come in contact with, which is that they personally want to thank you for the continued support for their right to live in peace like we all cherish here.
Thank you
Instagram @sk.ripple.effect
Go fund me https//gofundme.me/74c6b287 or search "power for ukraine" by sean kyle on Go fund me site more contact for info below
oberig-26.org
Email: powerukraine@yahoo.com