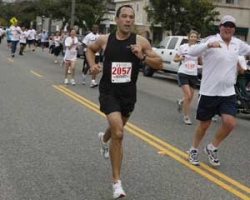 It is that time of year again, and the organizing committee of Run Seal Beach is getting ready to produce the 38thannual 5K/10K on April 21.  Starting at First Street and Marina Avenue as always, race organizers say it is going to be one of the best races ever.
Why? Well, it is on track to actually sell out. That is right, the single largest annual fundraiser for local health and fitness activities will likely max out at 5,500 people this year.
Elizabeth Kane, registration coordinator, said, "Almost 8,000 mailers were sent out about two weeks ago, and we are already at 33 percent over our anticipated registrations last year.  In order to make the race experience the best it can be for the participants and the residents of Seal Beach, who are impacted, the board made the decision to cap it."
So if you want to be part of the event, login to www.runsealbeach.com now to secure your spot on race day.
Alan Grant local business owner of Z Pizza on Main Street, has won the 10K for the last four years. Can he make it another winning year?  It is clear he is going to give it a try.
 "I love the race," he said. "Particularly because it is so local. Customers have already started asking me about the race this year."
Do you think he can make it five for five? Find out on April 21.
The 100 percent volunteer group effort has raised more than $670,000 since 2003.  Already, sponsorship is 23 percent above last year's. All of the proceeds get plowed back into local programs.  These have included the City of Seal Beach recreation department, Los Alamitos High School Football, Aquatics and Track & Field all receive critical funding for safety, equipment and even program enhancements.
Last year, the organization launched a new facet, the Director's Awards, which are gifts to other organizations outside of the grant process.  $14,500 went to 14 additional organizations, including the Seal Beach Chamber of Commerce for a summer concert band and the Community Thanksgiving Dinner, the Seal Beach Leos for community program work and the Lincoln Military Housing resident kids program for swim passes to the pool at McGaugh Elementary School.
These groups end up bringing together hundreds of volunteers to make race day possible.
"This year, we are moving to a disposable time chip as well.," said Marc Loopesco, race director. "This will increase the speed in which we can process runners at the finish line and move them out of the chute and into the recovery area."
The race also added yet another medal category, so now a grand total of 18 age categories will receive 1st, 2nd and 3rd place medals for the 5K walk, 5K run and 10K run.
So regardless of your fitness, register now to support youth and community health and fitness on April 21. Just ask Alan Grant, he said he knows to both train and register early to race to win.