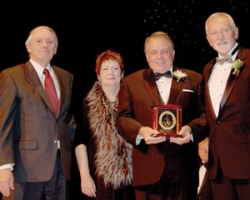 While Hollywood celebrated its Oscar Awards on Sunday, and the "Spirit Awards" on Saturday, Orange County's Cypress College held its annual "Cypress Americana Awards" Saturday, Feb. 25, at the Disneyland Hotel honoring local citizens for "their" spirit of giving.
It was a cast of well-deserving people who have reached beyond themselves to give to others in a way that touched their hearts and in turn touched the hearts of those who heard their individual stories on large screens at the front of the ballroom, and then watched as Cypress College President Dr. Michael Kasler presented them a ceremonial clock while on stage inscribed with the college's name, 2012 Americana, "Citizen of the Year" and their individual city and name.
Stanton Mayor Pro tem David Shawver, the event chair, began the evening by welcoming and thanking people for attending the 37th Americana Awards banquet and fundraiser, saying that the event is Cypress College's signature event that has been supported by thousands of generous people over the many years.
The night was for recognizing remarkable people as Citizens of the Year; the men and women who through their service to mankind leave life a little better than they found it in a way that is exemplifying of the best our country has to offer.
These are people devoted to others, in areas that are meaningful to them and by that, they are making a brighter future by leading lives that reflect their own inner qualities and inspire others around them to excel as well.
Many of those receiving awards spoke with accents from their original homeland, who made their way to America, working hard to achieve what they believed the American dream could offer them and then saw a need in children and families within their communities and decided to give what they could to make the world a better place right where they were with their kindness and insight.
Receiving the "Citizen of the Year" award for Seal Beach was Pastor Donald Shoemaker who has been a part of Seal Beach since 1984 as senior pastor of Grace Community Church until his recent retirement.
It was noted that he was quick to underscore the word "community" in the church's name, seeing his role and that of the church as reaching out and embracing the close-knit town of Seal Beach in happy and sad times.
He participated in the annual Memorial Day and Veteran's Day services at the Seal Beach Eisenhower Park hosted by America Legion and Veteran's of Foreign Wars and participated in ceremonies at local military installations and in the dedication of the new Seal Beach Fire Station and Community Center and offered 9-11 remembrances, including the first and 10th anniversaries of 9-11, drawing 2,000 people and 750 respectively.
He served as pastor of Los Altos Brethren Church and was assistant professor of Biblical studies at Biola University.
He supported the American Cancer Society Relay for Life; American Red Cross Blood Drives, held two times a year at the church; Project Angel Tree, which provides prison inmates Christmas gifts for their children; Interval House; Precious Life Shelter; Long Beach Rescue Mission; Teen Challenge; Precious Lamb Preschool for children of families in crisis and New Life Beginnings.
He supported the launch and was co-host of IMPACT Seal Beach, a project that involves Seacoast Grace, First Methodist and Damascus Church and other civic groups that combined efforts to clean the city beach and parks.
He said his greatest sense of pride and accomplishment comes from serving as senior chaplain for the Seal Beach Police Department. It was Shoemaker who developed the SBPD chaplain program in the first place.
As chaplain, he lead an effort to raise $21,000 to purchase 14 AEDs, electronic heart defibrillator units used by the police department and community.
The Seal Beach Chamber of Commerce honored him with the 2007 Community Safety Award for his work on the AED project.
Also, he was recognized with the California Medal of Merit in 2009 and a Lifetime Achievement Award from the Association of Grace Brethren Ministers in 2011; Seal Beach honored him by asking him to serve as grand marshal of the Seal Beach Christmas Parade in 2010.