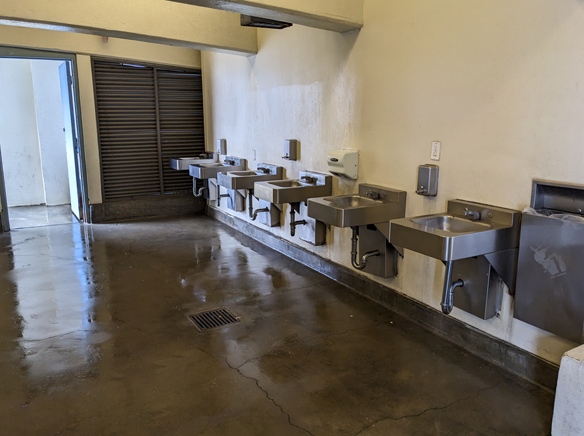 The Sun has obtained a copy of a March 12, 2018 email from the city manager to the Seal Beach City Council that said the city had taken over responsibility for maintaining the restrooms in the building located next door to 15 First St.
The Jan. 12 Sun quoted an email from City Attorney Craig Steele that argued the tenants at 15 First Street were responsible for maintaining the city-owned restrooms in the detached building next door.
The Sun on Jan. 13 emailed the following message to Steele, with CCs to the city manager, assistant city manager, and all five council members.
The city attorney was advised that the deadline for the story was noon, Tuesday, Jan. 17.
"Thanks for getting back to me so quickly the other day. Regarding who is responsible for cleaning the public restrooms on First Street: On page 4 of the attached email from City Manager Jill Ingram, dated March 12, 2018, in response to questions from Councilman Tom Moore, Ingram writes: 'When the space was initially leased there was no interior bathroom. Over the course of the lease a permitted bathroom was added to the facility. Over the last several years the care of the public restrooms has declined significantly and items in disrepair were not reported to the City. Additionally, there were also times when the bathrooms were not unlocked. Based upon history, the City has now taken over the cleaning responsibilities which have been absorbed into the current contract.'
"The Sun's question: Would not a reasonable person, reading those words, believe that the city is responsible for cleaning the public restrooms in the detached building on 15 First Street?
"Again, for clarification, who is responsible for the maintenance of the public restrooms?
"Please be advised my deadline is noon, Tuesday, Jan. 17."
Steele responded in a 1:23 p.m., Jan. 17 email.
"Respectfully, I have responded to this question three times now.  This a real estate transaction and the only document that matters is the Lease.  Emails don't change the written terms of a lease," Steele wrote.
"We are trying to engage with the tenants to resolve this dispute and won't engage further in arguing in the press," Steele wrote.
In separate emails, the Sun sent copies to each of the five council members requesting comment. Only two council members responded prior to the deadline.
At 3:56 p.m., Jan. 13, District Two Councilman Thomas Moore requested the original email. It wasn't clear if he meant the original email to Mr. Steele or the March 12, 2018 email. The Sun sent both.
At 6:45 p.m., Friday, Jan. 13, Mayor/District One City Councilman Joe Kalmick wrote: "I don't have any comments at this time. This issue is being handled by our senior staff and our City Attorney's Office."
On Monday, Jan. 16, Councilman Moore wrote: "According to our City attorney the lease that the tenant signed (section 6.3) agrees to maintain the restrooms and was part of the negotiation of their specific Lease."
I am glad that the Beach House opened and people are able to enjoy the restaurant now and I am hopeful that the owners of the restaurant will work with the City on an amicable basis going forward. Many do not realize the City did provide generators to help during construction and spent many hours working back and forth over and beyond what other restaurants require with coastal commission and getting permits required for the restaurant to open. I encourage the Beach House to stop blaming the City for problems and focus on what looks like will be a successful business."