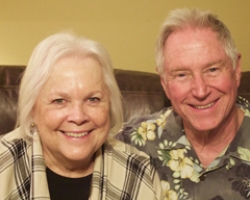 In the same way you can't take the Nick out of the breakfast burrito (because we all know Nick's does it best), you can't take the Walt out of the wharf. Walt Babcock, a dentist turned entrepreneur, founded Walt's Wharf in 1970 on the corner of Main Street and Central Avenue. Although Walt passed away last November at the age of 84, much of his original vision survives today through both the iconic restaurant and the lives it has touched (and continues to touch) along the way.
So, what exactly was the seed that sustained so many generations and just what was Walt's Wharf like once upon a time? Here's a shining light on its earliest days- so we can twist through time and space and arrive at the place where it all began.
Marian and Fred Elliot met through Wayne Huckabee, the very first manager of the wharf.
•••
Her eyes were hazel brown, eliciting the type of fire that drew you in, rather than pushed you out. The warmth in her eyes reflected that of her person. She was easy to talk to with a smile that was both tender and strong. "His first paycheck paid for our son's hospital expenses," said Marian Elliott as she smiled proudly at her husband Fred. Ryan was born in April 1975 and Elliot's check (reflective of his promotion from cook to manager) came just in time for their firstborn. They smiled looking back on all that Walt's Wharf had been to them- a place to start their lives both individually and as a family; a second home really.
Huckabee had hired Elliot as a cook in 1970 and later became a true friend and mentor. It was through Wayne's Bible study that the Elliots met. They fell in love, got married and moved to Seal Beach to join the Huckabees. It was through this intimate web of connections that a picture of Walt's Wharf's early beginnings came to form. "If there is one word that summed up Walt's, it was family," said Elliot.
Walt Babcock, founder of Walt's Wharf, was more than a restaurant owner; he was a visionary with a heart for people, especially the ones who brought his vision to life.
His own family was a part of the operation, training employees and serving in the restaurant. His mother in law had a shop around the corner called Idell's Ideas and Babcock's dentist office was next door to the restaurant. Babcock always gave his employees Christmas and vacation bonuses and was known to truly listen. Despite having the Midas touch, he remained humble and approachable and focused on how he could continually enhance the experience of his customers.
The first person Babcock hired was the genius behind the original menu and all the homemade sauces. Described as a tall, lanky, salty dog from Kentucky, patrons have Cliff Mobley to thank for the original chowder and blue cheese dressing. "When Waltz Warf first opened in 1970, it was a family oriented restaurant with paper plates, plastic utensils, and hippy beads hanging from the windows, but the quality was still there," said Huckabee.
Where the oyster bar is now, there used to be an open fish market and pretty women walking by had been rumored to cause accidents: turning heads while passing by in bikinis, distracting fish filleting focus. A huge 18-wheeler truck would deliver fresh fish from Washington, British Columbia, and Alaska every Monday, bypassing the middleman and bringing albacore and swordfish straight through the back door.
Sometimes, the fish would even come through the front door. Don Marr, a patron since '83, recalled a time when he was dining near the entrance and noticed a struggle at the door.
"Three workers were trying to get the door open and move people back so that they could carry in this gigantic fish for dinner," he said. What Walt's Warf didn't get from far flung waters, they got right from the California coast, as Babcock would often go out in his yacht and spear fresh fish to bring right into the market.
When the wharf started to take off, Babcock tore down the apartments on the second floor in all of two days. Asking employees to take up their sledgehammers and tear down the walls on a Sunday, ready for business to begin as usual by Tuesday.
"That was the kind of man Walt was," said Elliot. Clearly a go-getter, they tore down everything but the clawfoot tubs that had been there since the time Seal Beach was a seafarer's stop. Babcock kept the tubs on the second floor and creatively used them as giant ice chests for the salad bar, while installing a dumb waiter elevator to carry the food upstairs. Although the clawfoot tubs were eventually taken out, the dumb waiter elevator is still intact.
When Walt expanded upstairs, the restaurant went from paper plates to dishes, from "fish only" to "fish and beef" (Babcock used beef from his cattle farm in Montana) and started to host wine events (much of which would later come from the winery he started in Santa Ynez Valley). Walt's Wharf house wine became so popular that they had to store it all around the restaurant and under the stairs to keep enough on hand. People especially liked their wine margaritas made with Vermouth. Waits for Friday and Saturday nights were commonly 1-1/2 to 2 hours and little Radio Shack speakers informed customers when their table was ready.
It was a different time, filled with much lower prices. Ordering lobster for dinner (the most expensive item on the menu) would cost you as little as $4.95 ($52 dollars today), the albacore melt was only $1.50 ($14 today) and the clam chowder (everyone's favorite) was a mere 40 cents ($7 dollars today)! Even better, at the end of a busy night, the workers would walk across the street with all the cash they earned and deposit it in a big money bag at the same Bank of America that is there today.
Yet, despite a 47- year time difference full of changing prices and evolving menus, the Walt's Wharf of 2017 is still very much the living manifestation of the vision of Babcock's in 1970. It still is delicious. And still popular. And even more importantly, it still is a family. As host Brian Christensen said, "Everyone here is really close. This is my favorite job I've ever had. And I've even worked at Disneyland."