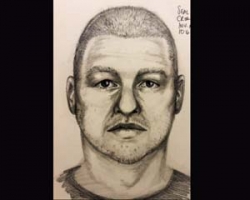 Police have released a sketch of a stabbing suspect and upgraded the case from an aggravated assault to an attempted homicide.
Seal Beach Police are investigating the stabbing of a 23-year-old Lakewood man. Police began investigating a disturbance on the northeast corner of Eighth Street and Ocean Avenue at 3:44 .am., Sunday, Oct. 5 when the crime was discovered. The victim, whose name has not been released, was stabbed in the abdomen with an unknown weapon. Police have described the victim as Hispanic.
The victim was transported to a local hospital where he is currently being treated for life threatening injuries.
Police have limited information about the suspect because of the victim's condition and limited witness information. The suspect has been described as Hispanic in appearance, in his mid-30s, 5 feet 5 inches, medium to chubby build with short black hair and possibly a mustache.
The suspect was wearing a plain charcoal colored t-shirt with jeans and unknown shoes. There were no described piercings or tattoos.
Police are asking anyone with information about the incident to contact Detective Mariana Martinez at 562-799-4100, X-1110 or Detective Sgt. Joe Miller at 562-799-4100, X-1112.