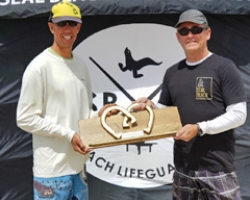 The 3rd Annual Seal Beach Lifeguard Association Horseshoe Tournament fundraiser took place this past Saturday, April 21, on the sand at Seal Beach. 22 teams signed up to participate in the fundraising effort.
The tournament began at 10 a.m. under sunny skies on a hot spring day. The Seal Beach Lions Club were present and cooked and sold lunch to all participants. The Lions donated all food sales to the SBLA.
The Seal Beach Lifeguard Association organized a public education booth which they staffed with a spokesperson as well as ocean and beach safety pamphlets and handouts. Spectators watched from the pier and lined the pits in the sand.
The 22 teams duked it out on the sand for a chance at the championship game and the coveted Golden Horseshoe. The tournament format placed each team into a pool with two other teams.
The top team in the pool received an automatic bid into a single elimination tournament. The second place teams of all the pools had to play against each other in a "cross over" round for a chance at a spot in the single elimination tournament. This year's tournament featured a few returning teams from last year's tournament.
Team Wild Party of Two (Frank Hall and Vince Guarino) who were valiantly defeated in the tournament's championship match two years ago made a reappearance this year.
Also making a reappearance this year, team Seal Beach Lions (Scott Newton and Mike Haley). The South Side Face Plants (Scott Weir and Todd Stegen) made a reappearance this year as well, but were knocked out in the cross over round by team TBA (Garff Hathcock and John Eliot). Team Duo de Dirtbags (Jason Tighe and Chris Pierce) made it first out of their pool before knocking out team TBA in the quarterfinals 21-12. Duo de Dirtbags went on to face Riggs and Utah (Tom Crowley and Tom McLaughlin) in the semi finals but were defeated 7-21.
On the other side of the bracket, newcomers Seal Beach Precision Dingers (Christian Oberst and Tosh Demello) handled the Mustache Rides (Tom & Branden Tighe) 22-12. At the end of the day it was Riggs and Utah who captured the Golden Horseshoe this year. Congratulations to Tom Crowley and Tom McLaughlin for winning the 3rd Annual Seal Beach Lifeguard Association Horseshoe Tournament!
Thank you to all participants and everyone who came out to support the event! The SBLA looks forward to holding the event again next year. Hope to see you there!