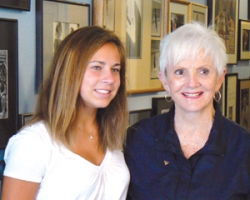 They stood together, just about the same height, gigantic spirits in diminutive bodies that have flown through the air like junior birdmen—or birdgirls if you like.
On Friday of last week, the retired two-time gold medalist in the Olympic diving competition, Pat McCormick, welcomed a visit by Los Alamitos High School's current diving prodigy Sydney Czaus.
The moment was magic.
They came together in McCormick's Old Town Seal Beach office for the charity organization she parlayed out of the fame her sports accomplishments brought to her. Of those assembled, they seemed to speak a language of their own, talking about "tucks," "pikes" and other diving terms. They both have tasted the greatness of the sport and face life with similar determination.
McCormick, of Seal Beach, knows the power of determination.  Her first attempt to earn a spot on the U.S. Olympic Dive Team ended in tears.  She missed the team by one-one hundredth of point.  She worked hard and kept her focus and not only made the team the next round, but won two Olympic Gold Medals in both the 1952 and 1956 Olympic Games.
Since then, the four-time Olympic Champion has distinguished herself as a champion to thousands of under-served children through the Pat McCormick Educational Foundation.  Through her newest project, the "Lil' Champs" program, Pat is pooling the power of impressive former Olympians.  On September 18, 2010, at the Long Beach Art Theatre, Pat and five legendary Olympians will be meeting with up-and-coming Olympic hopefuls, fans, students and families for an afternoon of fun and fundraising for Pat's Lil' Champs.
From 11 a.m. until 1:30 p.m., Pat's event will bring guests up close and personal with Olympic Gold Medal Winners including: Olympic Gold Medal Gymnast – Peter Vidmar, Olympic Gold Medal Decathlete – Rafer Johnson, Olympic Gold Medal Boxer – Paul Gonzales, Olympic Gold Medal Swimmer, John Naber, and fellow Olympic Gold Medal Diver and former teammate – Sammy Lee.  All of the Olympians will speak and answer your questions about their Olympic journey with a special pommel horse performance by gymnast Peter Vidmar.
Just as important as bringing hope to under-served youth, is mentoring the next generation of Olympic hopefuls.  As part of the kick-off to this event, McCormick met with Czaus.  In the past three years, Czaus has broken every Los Alamitos High School diving record and all but one Sunset League Diving record all while being an honor student.
Pat says that the dedication Czaus puts toward her school and sports is a great motivator and inspiration to the children helped by Pat's Champs.  By meeting Czaus and other up-and-coming elite athletes, Pat's Lil' Champs can see the type of excellence that they too are capable of achieving.  This positive influence helps others to put their energy toward healthy activities like education and sports and say no to peer pressure, gangs, drugs and alcohol.
For more information on how you can meet Olympic Greats and help thousands of at-risk youth through Pat's Champs, call the Pat McCormick Educational Foundation at (562) 493-3733.  The public is invited to attend the Afternoon with USA Olympians, from 11 a.m. to 1:30 p.m., Saturday, Sept. 18 at the Long Beach Art Theatre, 2025 East 4th St, Long Beach.  Adult tickets $20, Child tickets $10.
More on Pat McCormick
Pat McCormick's double-double Olympic diving victories have been matched only by Greg Louganis among the men. McCormick's second double victory at Melbourne came only eight months after the birth of her son. McCormick continued training throughout her pregnancy and swam 800 meters a day until two days before childbirth. Her margin of victory in the 1956 springboard, 142.36 to 125.89 (more than 16 points) for fellow American Jeanne Stunyo, remains the most impressive in the history of Olympic diving.
After the Olympics McCormick did diving tours and was a model for Catalina swimsuits. While serving on the 1984 Los Angeles Olympics organizing committee she began the Pat's Champs program and a foundation in her name to help motivate kids to dream big and to set practical ways to succeed.[1]
McCormick's husband, John McCormick, was the AAU champion on the platform in 1950-51 and her daughter, Kelly McCormick, competed for the United States at the 1984 and 1988 Summer Olympics, winning a silver medal in 1984 and a bronze medal in 1988, both on the springboard.
Following Sydney Czaus
As the summer dive competition season winds down, Los Alamitos Diver, Sydney Czaus continues to earn top marks, this time at the Junior Age Group National Championships in Tucson, Arizona.  Top 12 West Coast divers in four age groups met with divers from across the country.  Sydney bested all West Coast divers in the competition on 1 meter and 3 meter springboard and 10 meter platform competitions in the 16-18 year old girls age group.
Sydney earned Second place on 3 meter springboard, 3rd on 1 meter springboard and seventh on 10 meter platform.  Her best dive in the meet was her back two-and-one-half somersault that earned her highest score on both 1 and 3 meter springboard.  This was followed closely by a great score on her armstand forward double somersault off the 10 meter platform.  For that dive, Sydney holds herself up in a handstand on the end of the platform which is as high as a 3 story building before somersaulting twice into the water below.
The Los Al Dive Team looks forward to watching Sydney compete in the Spring for her senior year at Los Alamitos High School.