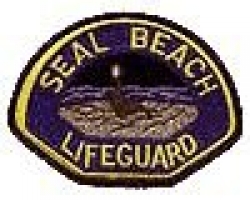 A man died after a boat flipped over and became stuck in the sand in front of the Surfside Colony on Thursday, April 21.
The other passenger, an 8-year-old child,  survived unharmed.
Seal Beach Lifeguard Chief Joe Bailey said the boat was sucked into the sand when the small boat capsized.
Bailey said it took eight people to lift up the boat and retrieve the child. It wasn't easy.
"Apparently, it took about 15 minutes to flip it over," Bailey said.
The child was yelling from under the boat while rescuers tried to pry the boat from the sand.
Bailey said the child was retrieved unharmed.
Bailey said emergency personnel were trained to handle such high-stress situations.
Rescuers lifted the boat again to reach the other passenger. He wasn't breathing.
Rescuers included Seal Beach Lifeguards, Huntington Beach Lifeguards and Orange County Lifeguards, the Seal Beach Police Department, the Orange County Fire Authority and the Huntington Beach Fire Department.
Bailey said the agencies worked well together.