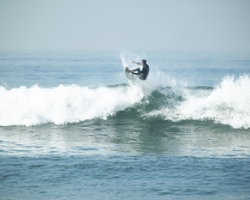 This month marks the start of the Seal Beach surfing championships presented by the legendary surf wear and apparel company Kanvas by Katin.
The contest will feature a two-day event, four-man heats, and a promising winter season.
"The winter season has already proven to be really consistent, hopefully we'll get some great waves for this year's event," said Contest Director  Tim Seneff.
The contest procedes all go back into local charities.
Every year local surfers refine their competition skills to try and take home the coveted 1st place awards. This event is very prestigious in the surfing community of Seal Beach as it has been a proving ground
for aspiring surfers. Local surfers have a clear-cut advantage at this event due to the tricky contest venue on the North side of the pier.
The wave itself is fast and can be very good given a proper west-northwest swell.
On a recent visit to north side Asher Wales, an Australian professional junior surfer, claimed, " This wave at 6 feet is one of the most fun waves I've ever surfed."
The recent el Niño weather patterns as well as good sand bars have local surfers excited to compete in their hometown.
The surfing level this year in the "groms" or under 14 divisions has improved immensely becoming very deep with local talent. To find out the dates for the event as well as entry fees check out local surf shops for entry forms.
Jake Tellkamp is a local Seal Beach surfer who competes in semi-pro competitions and won the 2007 Seal Beach Surf Championship.