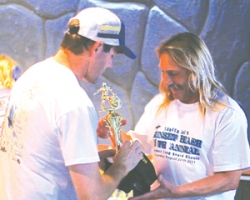 Saturday, August 20 marked the 16th Annual Surfer Joe's Summer Long Board Classic after a year long hiatus.
The Sunset Beach tradition brought together surfers from all over Southern California for a great day of sand and waves.
The competition was not held last year as its founder Surfer Joe (Joe Van Der Linden) took time off to get married.
Going back to its roots for the return, Van Der Linden said, the competition focused on his original vision of surf brands and surf contests that recall the timeless passion of surfing and the emotion of riding a wave.  Winners this year include: Trevor Lucca in the Pro Division, Steve Tate in the Masters Division, Steve Wilson in the Amateur Mens Division, and Evelyn Duffy in the Amateur Womens Division. Although there was no Bikini Contest this year, it will be back next by popular demand.
Sponsors of this year's event were: Captain Jack's, Kanvas By Katin, J. King Neptunes, Mahé, Mother's Tavern, Sun Newspapers, Tantalum, Yucatan Grill, Daimon Japanese Restaurant, Harbour Surfboards, Schooner Or Later, Screen Printing On Time, Inc., Surfer Joe Industries, Orange Octopus, Inc., Orchard Entertainment, O'Malleys, Tsunami Sushi, LaBreau Surfboards.
Surfer Joe Industries® was established in 1994. Surfer Joe is resolute in his mission to make durable and lasting goods available to the surfer and to keep his focus on the individual.  With fresh ideas based on tried and true durability, Surfer Joe has kept his work simple and straightforward and has never lost focus on providing quality that a surfer can count on – built on consistency and designed with simplicity. You will always recognize Surfer Joe's gear as being made to last. Surfer Joe Industries® makes custom high-end clothing and sells it in Long Beach, Tokyo, Wilmington NC, and at Kanvas by Katin in Sunset Beach.
To see a video of the Surfer Joe contest, go to the Web site:
www.OrchardEntertainment.com/2011LongboardClassic
For more information on Surfer Joe Industries® you can check out the website at www.surferjoe.net or you may contact Surfer Joe Industries® by phone at 562-592-4200, by e-mail at joe@surferjoe.net or by mail: Surfer Joe Industries®, P.O. Box 1273, Sunset Beach, CA 90742.