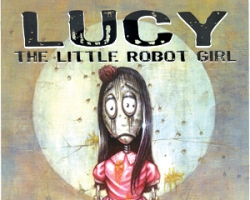 When Sunset Beach resident Rusty Sherrill married Cathy seven years ago, he didn't dream it would lead to another female in his life.
Their collaboration did lead to the self-publishing of "Lucy The Little Robot Girl," a full-color, illustrated young adult sci-fi/fantasy short story.
"I never planned to write a book," the 49-year-old Rusty Sherrill said. "All I ever intended was to paint the images of a little robot girl that were in my head.  Then whenever I exhibited these paintings everyone came up to me and said, 'Why is she so sad? What's her story?'"
Rusty scribbled a few notes of a possible storyline then asked Cathy to work on it.
She envisioned a completely different story and wanted to take it in a different direction. Amicably battling back and forth, they planned a trip to Seattle for Rusty's birthday. A chance visit to Gas Works Park near Fremont Street changed everything.
"Walking through this monstrosity-laden park right on the edge of Lake Union, I knew our story had to take place here," Rusty Sherrill said.
"Rusty saw the ruins of the coal gasification plant, I saw homeless kitties roaming around rusted barbecues, but it didn't take much encouragement on my husband's part to convince me that the majority of our story had to take place at Gas Works Park," Cathy said.
Writing the story for the couple was the easy part; editing was the challenge. "As great an editor as I think I am every time I read the finished story, I found continuity mistakes, dialogue that needed to be spiced up, or typos," Cathy said.
"We also wanted to incorporate a lot of Rusty's strange humor. He's definitely the creative genius; I simply take his thoughts, drawings and paintings and turn them into words. Rusty would probably tell you 'better words,'" she said.
"Lucy The Little Robot Girl" is the first in a series of three planned books, the other two to be available within the next two years.
"It's true that there is somewhat of a cliffhanger ending, hopefully leaving the reader wanting more, but the story stands alone nicely," the artist said.
Also self-published, the artist has a second book, "The Art of Rusty Sherrill and other assorted, slightly-twisted things." Complete with the comical ramblings of the artist, the full-color art book showcases 26 paintings including "Dexter," Johnny Depp as "Sweeney Todd," caricatures of Bill Cowher, Iggy Pop and the Ramones, four Little Robot Girl pieces, surf-related artwork and even a painting ("Mechanical Heart") featured on the television show, "Big Bang Theory"—(displayed on the wall behind Howard Wolowitz' bed).  Sherrill's painting technique is also described.
The couple exhibited at last summer's San Diego Comic Con and are now set to begin an all-out blitz promoting the books. "We would have had a lot more time if the football strike hadn't been settled," Cathy said.
The two actually met when Rusty overheard Cathy talking about her love of the Miami Dolphins at a beach party. Rusty, a native of Lakeland, Florida, was also a fan. Cathy, originally from Pennsylvania, once worked for the Dolphins after a three-year pen pal relationship with then-owner Joe Robbie.
"I always said I could only marry a football fan. In fact, in my vows, I promise to love Rusty only as long as he remains a Dolphins' fan. Of course, that keeps getting harder and harder. Not to love Rusty—to remain a Dolphins' fan," Cathy said.
"They just need a coach," Rusty said.
"On a more serious note, we really hope that 'Lucy' can become a hit. We feel our focus will be to try to get a following in Seattle first. Our goal is to sell enough books to interest an agent or publisher," Rusty said.  "My dream would somehow be to get it into the hands of director Tim Burton."
For more information, e-mail rsart@aol.com or www.rsartstudio.com.