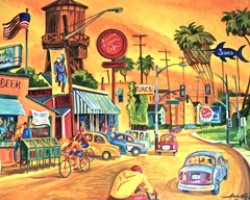 If you have been to Sunset Beach, you'll notice lots of retro signs, such as Don's Shark (which was known as Sam's Seafood for many years), Turc's, Harbour House Cafe, Woody's, Mothers, Captain Jack's and Antiques of The Sea.
"These signs of longtime local institutions are one-of-a-kind treasures," said Mike Van Voorhis, president of the Sunset Beach Community Association. "They tether us to our past and remind us how uniquely special Sunset Beach is."
Huntington Beach City Council Person Lyn Semeta grew up in Seal Beach and remembers the iconic signs of Sunset Beach. "They conjure lots of memories of being young when times were simple and you had your whole life ahead of you," Semeta said. "Sam's Seafood was where we held our end of year school banquets and the Harbour House was the Sunday family breakfast spot after church."
"Retro signs help us stay connected with our past," said Patrick Brenden, who for many years had a successful sign business before becoming a Huntington Beach City Councilman. "Whether it's Don The Beachcomber, Turc's, Harbor House Cafe, or Mother's, these signs keep memories of earlier days and simpler times alive and well. In Sunset Beach especially, it would be shame to lose touch with the retro ages."
Dewey "Sticks" Linehan, who worked at Sam's Seafood as a broiler chef of steaks and seafood in the 1970s, said that the unique sign was known worldwide. "It was a landmark that made Sam's one of the most famous seafood restaurants anywhere," said the musician, who went on to play drums at the MGM Grand in Las Vegas.
In 1958, Mother's Tavern also served as the inspiration for the first television private detective show, "Peter Gunn." Blake Edwards, Henry Mancini and others involved in the show liked it so much they reproduced part of Mothers in a Hollywood sound-set. Peter hung out at the Mother's jazz club during the popular series, which starred Craig Stevens.
Ah, Sunset Beach. Thanks for your memories. Thanks for your signs.