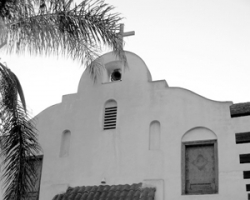 Comité del Amor has seven weeks left to finish raising the money toward purchasing St. Isidore Historical Plaza from the Diocese of Orange.
Over the next seven weeks, Comité must raise a total of $179,000 to meet a lease option to buy the 1.5 acre property.
That's $22,375 every week, or $3,196 every day. The full price is $250,000.
However, the committee has only raised part of the money needed.
Members of Comité say they are passionate about saving the former church from the same fate as its next-door neighbor, the original Congregational Church that was torn down after a new and larger church was built at 4111 Katella Avenue.
"I've visited Marywood [administrative offices for the Diocese of Orange] so many times that my husband doesn't even complain anymore," said Marilyn Poe, a lifelong member of the Congregational Church. "I remember as a child attending the original Congregational Church on Sundays. We kids from both churches would play together after services. No one stepped up to save that building."
Poe and other members of Comité want to see the oldest public building in Los Alamitos re-opened as a non-denominational chapel available to Los Alamitos Medical Center patrons and staff as well as others.
Comité members want to transform the larger facility—made up of the former church, a meeting hall and a single-story house across a small plaza and parking lot—into a choice destination for residents of Los Alamitos, Rossmoor and neighboring communities.
Comité is well on the way towards that transformation. Plaza activities range from fiestas and prayer groups to meetings of Scouts and Alcoholics Anonymous. Classes are taught in parenting and English as a second language.
Tutors from Bound for Success help at-risk students.
However, Comité does not yet have the money to meet its financial goal for the Plaza.
Prospective donors should know that large contributions will be placed in a restricted legacy fund towards purchase of the property.
Should the fundraising effort fail, all donations in the fund will either be returned to donors or given to like-minded charities, at the direction of the donor.
St. Isidore Historical Plaza is located at 10961 Reagan St., on the northwest corner of the intersection of Reagan Street and Katella Avenue.
For more information, call Comité del Amor at (562) 596-9918 or by mail at to P.O. Box 1431,  Los Alamitos, CA 90720, or you may make a secure donation online at www.stisidoreplaza.org.
Historic background
When Rossmoor's red brick walls rose in 1955, St. Isidore served as the community's Catholic parish.
Indeed, the increase in population from the building of Rossmoor spurred the building of St. Hedwig Catholic Church at 3591 Orangewood Ave.
In 1960, the Archdiocese of Los Angeles closed the church. The Diocese of Orange was founded in 1976, about 200 years after the founding of Mission San Juan Capistrano.)
St. Isidore's bell, Belgian marble statues and altar were given away.
In 1999, the Diocese of Orange announced St. Isidore's closure and the intention to dispose of the property.
Within weeks, Comité del Amor was formed under the leadership of Pepe Brucoup, Maria Teresa Diaz, José Borneo and Rebecca Cagle.
The current pastor of St. Hedwig, Father Ken Schmit supports efforts to save St. Isidore as a community activity and human services center.