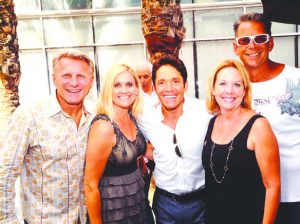 Second of two parts
Before the break of dawn on St. Patrick's Day, as most people enjoy the quiet wonder of early Sunday morning, the crew at Spaghettini is already stirring.
In a few hours, the first of 400 guests will begin arriving from all corners of the nation for brunch, just as they have each Sunday for the past 18 years.
And, although they are enjoying their 32nd successful year in business, owners Laurie Sisneros and Cary Hardwick are up early too, working alongside the staff.
In a world where the average restaurant lasts a mere five years, and in a system where businesses are told "greed is good," this unassuming enterprise in Seal Beach has, by every measure, defied the odds, invested in its employees and is today a booming enterprise with more than 50,000 happy customers.
"We take nothing for granted," says Cary.
In fact, the local eatery comparably annually serves as many meals as the nation's top establishments.
As Chef Victor Avila sears fish on the grill, each member of the staff performs their magic with the artful precision of a backstage crew preparing for a command performance. Better yet, like a very close family awaiting relatives on a holiday morning. On Christmas morning, Avila "always tries to bring new ideas to the table," yet loves the fact that the staff "works like a family, both in the front and back of the house."
At its core, Spaghettini is a family enterprise, founded on principles of honesty and trust. Founded by Cary and Laurie with only a dream, they were fiercely determined to uphold their values.
In the beginning, said Laurie, while they were not sure what would become of the business, she said they knew one thing for sure that would NOT happen. "We did not want to maximize profits. We have poured ourselves into our people," said Laurie.
Server Theresa Herria, who calls herself a "newbie," with only twenty years at the company, said "this place is really like a family." Behind the scenes, she said, the owners are even more generous and as authentic as they appear to the public.
Many staffers have been with Laurie and Cary even longer, some for the entire 31 years since they opened. These unusual owners take pride in the fact that their employees make enough to live good lives, send kids to college, buy houses, etc.
According to Cary, "we know that Laurie and I cannot greet each customer, as hard as we try, so we want our customers to get a sense of who we are through our employees."
Jayme Young-Eke, a sales representative of KTWV (94.7), a powerful radio station that is now referred to as "The Wave," remembers approaching Laurie and Cary with the seed of an idea for a Sunday Brunch two decades ago. Popular "Wave" personality Talaya says she is proud to have been there since the beginning, adding that "we have built this event from scratch."
Herria remembers the day Laurie and Cary called employees together to ASK THEM, the staff, if they thought it was a good idea to start a Sunday Brunch? "They wanted our opinion," she said, somewhat incredulously.
"Back then, we really couldn't afford to pay what the radio station was asking," remembers Cary, but he and Jayme negotiated and reached a shared compromise. Until launching the brunch, Spaghettini had been closed on Sundays (first 12 years), but the staff gave the idea a big thumbs up and 18 years later, the event remains sold out, sometimes months in advance.
On this Sunday, the preparations go like clockwork. Chef Victor and his team lay out a wonderous buffet with, literally, dozens of choices, and of course, corn beef and cabbage for St. Paddy's Day. The house band, DW3, is tuning up. The "Wave" takes its place, as it has for nearly two decades. For Spaghettini it is never just another Sunday.
By noon, there are more than 400 people representing various groups celebrating retirement, anniversaries, birthdays, divorces inside, and for a few hours, they are simply happy to be part of the family in the House of Spaghettini.
As the band played, the champagne flowed, and the immaculate preparation was worth it.
"This is an unbelievable place for special occasions," claims Donna Ciancio, of Fort Lauderdale Florida, who has been coming "for many years." Rodney Jameson, her husband, was celebrating his birthday. "There is nothing else like it," he said. "It's fabulous."
Lisa Lang, from Washington state, was enjoying herself as well. "I've been coming off and on for more than 10 years. If I am anywhere near, I am going to be here. "The staff treats me like family and the ambiance is amazing."
For Michelle Duckworth, a Mississippi native who moved to California years ago, it was her first visit to Spaghettini's Brunch. Her reaction was clear. "Immaculate. Superb. Everything I imagined it would be."
Oakland native Joellyn Johnson, who now lives in Cerritos, said she was amazed at the attentiveness of the staff. "They are always filling our glasses. We don't feel rushed. I'm so happy I came."
Early investors Jerry and Marilyn Kruse are there. Approached by Laurie and Cary with only an idea three decades ago, they (along with many other local investors) believed in them then and even more today. "It's all been good," said Kruse.
According to John "Q" Quigley, Spaghettini's music director and brunch manager, "you simply can't come here and NOT have a good time because there are so many things going on." Quigley wisely suggests the brunch, in many ways, becomes a "microcosm" of America.
He has been with the company for two decades and has helped Cary and Laurie develop an incredible music and entertainment side of the business. After learning the value music could add to the overall experience, Spaghettini added a main stage years ago to its complex network of five dining rooms of various sizes and a covered patio.
To Spaghettini's good fortune, jazz great Dave Koz was a morning personality at "The Wave" when they began the brunch. Koz, a multiple Grammy winning artist, would then both take the stage and when not performing, work the DJ booth at the radio station's perch within Spaghettini.
Laurie and Cary became great friends with Koz, who eventually led them to friendships and performances from artists like Smokey Robinson, Kenny Rogers, Christopher Cross and many more music A-listers.
Greg Adams, a Grammy and Emmy nominated artist, and arranger, known for his role in the Tower of Power (called by some the funkiest sound ever to exist), was in the house, having played the night before.
"I've been playing Spaghettini for 25 years," said Adams, remembering his first appearance "on a stage (then) the size of a postage stamp. We had to put the horn players on the floor."
Always on tour, Adams said his current group, East Bay Soul, carves out time to play Spaghettini three times a year. "Honesty is here," he said, "everybody is happy." Adams said Spaghettini is the only place his band will play without "an advance." After a quarter of a century friendship, Adams says he knows his artists will be treated with the greatest respect.
In the House of Spaghettini, celebrities and guests are treated the same, as they all seem to leave their cares of a chaotic world behind and emerge from the brunch fulfilled not only with a great meal, but also fed with the renewed vigor of understanding that a common purpose does exist.
Over the years, even the so-called Godfather of British Blues, John Mayall, played Spaghettini. Like everyone else, great artists also want to belong to families that believe in values bigger than themselves.
Koz led Spaghettini to some really big names in Beverly Hills, and they even tried for a while to expand the franchise there in a Koz-Spaghettini partnership.
Cary and Laurie quickly realized, however, that home is where they'd rather be, but they have continued the Koz partnership and have made a major reinvestment in Seal beach. That said, the Beverly Hills partnership awarded them with valuable lessons and an incredible rolodex.
In fact, Laurie and Cary will be cruising with 2,000 people in Australia next week on a Dave Koz jazz cruise, promoting "Spaghettini at Sea." Moreover, Quigley will act as the cruise music director as together, they will nightly promote their brand with food, wine and music. He also manages a Grammy laden lineup for Spaghettini guests throughout the week, not just during Sunday brunch.
"It's been a magical career," recalls Laurie, trying to make sense of the immense set of circumstances that have positioned Spaghettini at the pinnacle of success.
They are as proud of their friendships and customer loyalty as their financial success. "We are very rich in terms of relationships," says Cary.
Having now secured a long-term lease for their current location, Laurie and Cary have made a major reinvestment into their facility, including custom colors on the wall and coordinated art, including a massive, 3-D relief depicting the city of Florence, Italy in 1847.
"We both love northern Italy," they say, and Spaghettini has become indicative of those values, creating a family atmosphere of which any Italian family could be proud.
"Every family has a story. Welcome to ours," reads a sign that welcomes everyone to Spaghettini. Thirty-one years later, those words are more prophetic today than the day the restaurant opened.
It all goes back to those early values and the unique combination of Laurie and Cary. These two entrepreneurs, like many, had a dream. Unlike many, they took a risk and made it a reality. And in many ways, by dedicated adherence to those early values, they have defied all logic and created their own amazing brand with a collaborative appeal found few other places in America.
With more than three decades behind them, Spaghettini is still hotter than hot, using a homemade recipe for success that, like the most perfectly seasoned dish, always seems to leave its legions of customers wanting more.