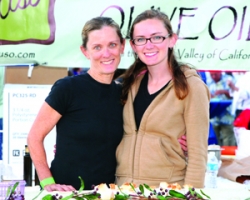 The question people most ask Anne Yee, the owner of enFuso, is: "Why would you smoke olive oil?" But as soon as they taste her hand-smoked oil, they know why. People love the flavor of smoke, and now with enFuso oils they can add this wonderful flavor into their recipes in a heart healthy way.
"Of course people want a unique oil for dipping and when combined with Parmesan or Romano cheese, this oil is a winner," Yee said. "But you can also make your baked salmon taste smoky, make fresh smoked grilled oysters, give a smoky tasted to your soups and stews without adding bacon, make smoky chicken salad, pep up your meatloaf, and more."
She said that customers are always coming up with creative new uses and Yee tries to keep them all posted on her Web site and recipe blog.
According to Yee, only a handful of people in the world make this unique product.
"It's interesting to find that one of them is in our local neighborhood in Los Alamitos," Yee said.
The trick to smoking oil is protecting it from smoke and ash. So a specially designed low-heat low-ash smoking process is used. Then it is about finding the right wood blend, the right time duration, and using the best base oils.
Yee said she only uses estate grown, single-olive California COOC-certified award-winning Extra Virgin Olive Oils. The result—the same wonderful base oil (same color, viscosity, and original flavors) but now enhanced with the rich earthy flavor of smoke.
How did the Yees come up with the idea for this product?
Yee's husband Jon is a long time avid food smoker. One day they were sharing their smoked meats with good friends in the olive oil business. Over a meal of smoky pulled pork, the idea arose and Jon took it on himself as a challenge to figure out how to make the very best smoked oil.
However, when he had succeeded, he was too busy to bring the product to market.
Yee, however, was looking for a new project so she took up the challenge. Between the two of them, they do all aspects of the business.
Though Jon still oversees the production, ensuring every batch has that rich smoky taste that he worked hard to refine, Yee has fully dedicated herself to the business and does all operations, sales, and marketing. After receiving state approval and a license for their bottling line, sales kicked off in August of this year starting in farmer's markets and in September in small family-run gourmet markets and gift shops.
Yee said the key to selling this product is just one taste. People are skeptical at first but not for long. Just ask the over 750 people who tasted it at the recent Taste for Los Al. They all wanted to know where they could buy this stuff. Now there are many local sources to buy: on-line at www.enfuso.com, at Elementals Fine Florals & Gifts in Los Alamitos and The Wine Country in Signal Hill, and at the local Long Beach Sunday market at Alamitos Bay.
One key goal in designing this product was to keep it affordable. Yee wants as many people to be able to enjoy this product as possible. So all of enFuso's products are under $20. In addition, by making sure there is lots of smoky flavor, a little bit goes a long way. But as Yee says, make sure not to leave this on the table too long with cheese and good bread or before you know it, you will be shopping for a new bottle.