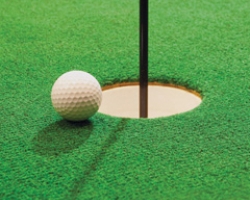 Driving down the fairway will count for a lot more than just making sure you're under par this November.
Local residents can sink putts while raising money to support the local police department when the Seal Beach Police Foundation hosts its 4th Annual charity golf tournament on Monday, Nov. 20.
The charity tournament will raise funds to enhance the Seal Beach Police Department's efforts in the community.
"The Foundation Golf Tournament has become a fun and important annual event to support the brave men and women of our community's police department," said Foundation President Tom Stretz.
"Thanks to the generosity of the many people who make it successful, we can make a significant difference in the capability, morale, and security of our police department," Stretz said.
Organized by the Seal Beach Police Foundation Board of Directors, the golf tournament is part of the annual campaign to raise funds to promote and support, through grants, the Seal Beach Police Department's efforts in vital areas such as Community Partnership and Advocacy:  programs that enhance relationships between the community and the SBPD; employee development; wellness and morale, advanced training and employee recognition programs as well as cutting-edge and specialized equipment and technology.
The Foundation announced this year that G&M Oil has signed on as the 2017 Presenting Sponsor for the Tournament.
"We appreciate the commitment by G&M Oil to this event and our foundation's mission of support for our community's police force," said Greg Phillips, foundation vice president, and tournament organizer.
"We were able to raise more than $40,000 at last year's event that has been used to provide grants such as providing each officer a tactical vest, various training opportunities, and uniforms for the department's Honor Guard," Phillips said.
Sponsorships at all levels and individual golf tickets are available.
The tournament will be held at the Old Ranch Country Club, located in Seal Beach.  It will include a sponsored lunch, an 18-hole shotgun start, and an awards ceremony.
Check-in begins at 8 a.m., and tee-off is at 11 a.m.
The Seal Beach Police Foundation is a 501(c)3 nonprofit founded in 2014 with the mission "to provide support to and for the benefit of police officers and employees for the Seal Beach Police Department, including facilitating fundraising efforts and providing funding, training, equipment and resources for the Seal Beach Police Department."
For more information on the golf tournament, or to find out how you can support the foundation and its mission, contact Alberto Sandoval at 714-928-1302 or email media@sealbeachpolicefoundation.org.
Alberto Sandoval is a member of the Board of Directors of the Seal Beach Police Foundation.