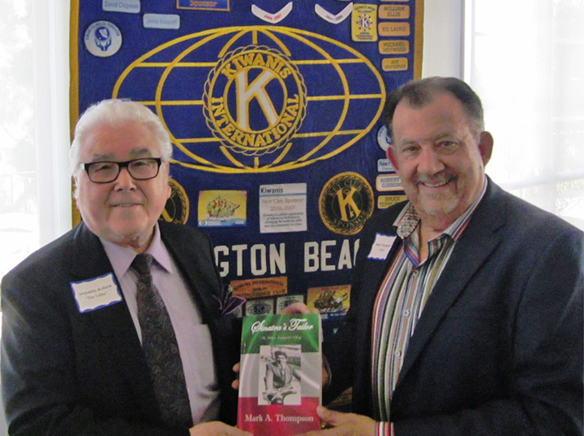 Seal Beach's Mark A. Thompson has written an interesting book, "Sinatra's Tailor." It's a biographical novel about longtime Long Beach clothier Umberto Autore, who was orphaned and raised by Italian nuns during World War II.
It describes the struggles the lad had growing up, including being shot in the face by a German soldier; how he was reunited with family members, and much more.
A lot of the book is about his survival, travels and evolution. He became a Master Tailor in Florence, Italy and immigrated to the United States, where he eventually ended up a designer for famous New York clothier Louis Roth.
He also designed clothes for celebrities, sports icons and top executives, such as Jerry Buss, the Los Angeles Lakers owner, Steven Spielberg, and Frank Sinatra.
The author and Umberto recently spoke at a Huntington Beach Kiwanis Meeting. Thompson told how he had been President of the Key Club at Millikan High in Long Beach. He also got a job in a local Broadway Department Store. "I worked in menswear. When we needed tailoring, I'd escort the customer down to a shop where Umberto happened to be the tailor," he said.
"I went off to college and became a Speech Pathologist in Palm Springs. That's where I met Frank Sinatra. He flew in with his friend, Comedian Pat Henry, who opened his shows at Caesars Palace. Frank told me to 'get Pat to stop fumbling his words.'"
Later that year, Pat was back opening for Frank in Las Vegas. Talk about a small world, at a fundraiser in Palm Springs, Thompson was a singing cantor, performing right in front of Sinatra. And Umberto had become Frank's tailor."
"Frank was a fastidious dresser … He insisted on picking out everything himself—fabric, color, style. It had to be top-of-the-line," Umberto said. "How he looked was as important to him as how he sang."
Umberto, 82, who lives in Huntington Beach, has had a business in Long Beach for 7 decades – Umberto Fine Men's Clothing, 2141 Bellflower Blvd.
One of his clients was Gary Worthington, former manager of Harbor Chevrolet in Long Beach.
"Jerry Buss and I had a mutual friend, who told me about Umberto years ago," said the former president of Huntington Beach Kiwanis. "I went by to see it and walked out with two suits and a sports coat. He was a great salesman and never dealt on price but made it fun for me to spend money."
"I retired and couldn't believe receiving a flyer recently talking about Umberto's new book and how he and the author would be speaking at Kiwanis. I'm reunited and going back to his store now."
There will be a book signing at 3 p.m., on Feb. 23 at Barnes & Noble, 6326 East Pacific Coast Highway in Long Beach.