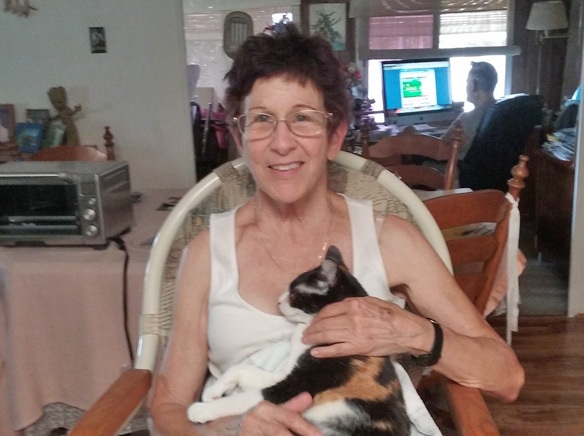 Most of us rumble through life when, all of a sudden, seemingly out of nowhere, we discover something that we're totally passionate about. For retired school teacher and counselor Gloria Roth, her epiphany came one day as her pet rat climbed onto her shoulder and the tiny nails dug into her skin.
As a school counselor, she travelled from Orange County to L.A. Roth said she always "wanted an animal in my office to encourage the kids to come in." So she adopted Twilight, a white, pet rat and for five days a week, Twilight sat on her lap or crawled around while she listened to the children and helped them with their problems.
For Roth, the problem was Twilight's nails. "When she got on my shoulder, her nails were like needles in my neck." So the counselor went to a groomer and learned how to properly clip Twilight's nails. Problem solved, new career underway.
"I started trimming her little nails and that was the beginning of my business," she said. For practice, she began doing the nails of her cats, then expanding to friends' cats and dogs. She absolutely loved and discovered she had the perfect set of skills and personality for this special business.
Now in retirement from teaching, Roth has developed quite the "peticure" business. She travels around the area, Seal Beach, Long Beach, Huntington Beach, Los Alamitos, etc. giving pets the individual nail treatment. It's not a mobile spa, but this woman has developed her own methods of calming the animals and making them sit while she trims, files and sometimes polishes nails.
"I have always loved animals," she says, adding that she is also an "animal advocate.' She said serious problems can develop for animals with improper nail care. If the nails grow long enough, they can curl up under feet and animals will develop problems as they constantly step on them or apply pressure to other legs to compensate.
Like a traveling doctor of yesteryear, she makes her appointed rounds with a smile, going to the homes of pet owners to provide her "mobile cat/dog nail clipping service." In short, Roth is a peticurist. While there is no such word, Roth has just invented it.
Roth said the business is making her rich, even if only in animal experiences. For her, however, it is for the interaction with the animals that she does this work. She loves the animals and they seem to love her back.
For instance, when she visits the home of a Jack Russell terrier named Bill, once done the 43-year-old cockatoo struts over to her with a $20 bill politely tucked in beak for her payment. She takes the bill from the bird, thanks the owner, and says good-bye until the next clip.
She has learned how to deal with even the most difficult cats. One of her clients requires "two towels over the head" to obscure the vision, otherwise "she would tear me apart." To make matters worse, the home's black Labrador sits nearby and watches Roth's every move.
Roth even grieves for her pet clients. She recently lost a 19-year-old dachshund whose owner had to put her to sleep. "It was like losing a friend," said Roth, after visiting with the dog regularly for four years.
"I have discovered that it takes love of animals, patience, physical strength and lots of practice to develop this skill," said Roth. "I believe this is a gift I have been given," she adds. For her, all of these pets, and their owners, are like her "extended family."
"I am very happy to have found my niche and able to provide this service."
The extra money from her 'peticure' clients does allow Roth to travel a bit more in retirement. She recently returned from, you may have guessed it, Uganda, where she went to see and visit the gorillas. "It was awesome," she said.
By the way, no word on whether while there, she asked to trim the gorillas nails?