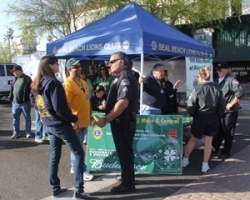 Lions Club will provide revelers free rides home
For the Sun
Seal Beach's Main Street is home to four Irish bars, in addition to other alcohol serving restaurants.The Seal Beach Police Department will be out in full force on St. Patrick's Day, which is Saturday, March 17. to make sure that if you are behind the wheel, you are sober, according to a recent statement issued by the SBPD. Sgt. Michael Henderson, the department's public information officer, confirmed that a command post will be in the Main Street area. Police are not publicizing its location.
"St. Patrick's Day should only be a good time for members of our community," said Interim Chief Joe Miller. "But we need your help to make this a reality. A commitment to sober driving keeps our neighborhood roads safe. Always make a plan before heading out to the festivities. Understand the dangers of drinking and driving. It is illegal to drink and drive, and should never be an option for how you get home. Designate a sober driver before you and your friends go out to celebrate St. Patrick's Day. Remember: Drive Sober or Get Pulled Over—St. Paddy's Day, and every day," Chief Miller said.
The Seal Beach Police Department will suspend parking enforcement until 9 a.m., March 18.  If you need to leave your car parked on Main Street or the Old Town area, you can leave it and not get a parking ticket.  This is in an effort to encourage revelers to seek alternative methods of transportation.
The police aren't the only people preparing for St. Patrick's Day. As in prior years, the Seal Beach Lions Club will be offering free rides home for all who ask.  The Lions booth will be at Main Street and Central Avenue.
In recent years, St. Patrick's Day has been comparatively quiet in Seal Beach. In 2016, for example, one individual was arrested on suspicion of drunken driving and two individuals were arrested on suspicion of public intoxication. Henderson said rain was expected this coming Saturday
According to a statement issued by the Seal Beach Police Department, the night often ends with drunk drivers on the road, which pose a threat to other drivers, vehicle passengers, and pedestrians. In 2016 alone, 60 people were killed in drunk-driving crashes during the St. Paddy's Day holiday period (6 p.m., March 16, to 5:59 a.m., March 18). According to the SBPD, March 17 has become a dangerous holiday on our nation's roads. According to the National Highway Traffic Safety Administration (NHTSA), during the 2016 St. Patrick's Day holiday period, almost two-fifths (39 percent) of all motor vehicle crash fatalities involved drunk drivers. The early hours of March 18, 2016, didn't fare much better. Between midnight and 5:59 a.m., nearly three-fourths (69 percent) of all crash fatalities involved drunk drivers.
In fact, from 2012 to 2016, almost two-fifths (38 percent) of the drunk-driving fatalities during this holiday period involved drivers who had blood alcohol concentrations well above the .08 limit, with 269 drunk-driving fatalities total. Drivers should also keep an eye out for pedestrians who have had too much to drink. Walking while intoxicated can also be deadly, as lack of attention to their surroundings could put pedestrians at risk of getting hit by a vehicle.
In 2016, there were 10,497 people killed in drunk-driving crashes. Another way to look at it? An average of one person was killed every 50 minutes in a drunk-driving crash in the United States that year.